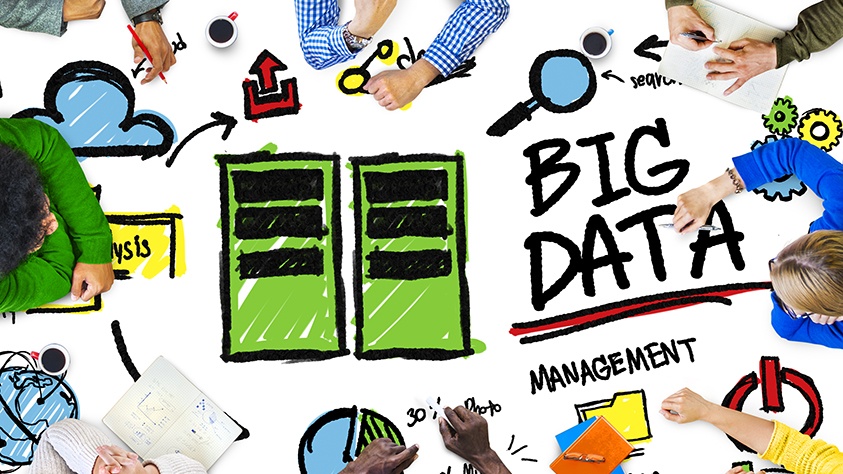 Salaries and wages are the single most important cost factor in almost every company, accounting for up to 50 percent of total costs. Recruitment and HR costs are in addition. The HR department is therefore a "valuable" department in the truest sense of the word: hats off to anyone who can find scope for improvement and potential cost savings here. Time to make yourself familiar with the key performance indicators (KPIs). We highlight 6 questions your boss may have about 'big HR data' that you need to be prepared for.
What exactly is meant by 'big HR data'?
Everyone is talking about 'big data', but what is behind it? For HR, firstly, it's just about collecting external data, for example on developments in the job market, demographic changes and competition. Secondly, it concerns internal company-specific data and KPIs.
As a medium-sized company, do we actually need 'big HR data'?
Managers and senior executives are often of the opinion that investment in complex analysis is only cost-effective in large companies. A misapprehension because, thanks to the latest technology, collecting and analysing HR KPIs is no longer rocket science. And, in view of ever increasing competition, smaller companies in particular cannot rely on their employer brand being strong enough. Those who keep an eye on internal and external developments are also agile. They can act quickly when necessary and, as a company, remain competitive in the market.
How do we get this 'big HR data' then?
The good news: you are probably already collecting a huge amount of data without knowing it. From hit rates for your career pages, applications received, performance of the job platforms you use, to time-to-hire and recruitment costs: together they offer you a valuable insight into the quality of your recruitment activities and achievements of your staff. HR or applicant tracking systems (ATSs) usually provide sufficient data for a good start.
How do we extract useful information from the data?
Struggling with big data and complicated analysis is a sobering thought. Obvious, since recruiters are not analysts. But you don't have to be an analyst to use big data. Professional HR software now includes useful reporting tools that will calculate and analyse your key performance indicators, such as time-to-hire and time-to-interview statistics, with a simple mouse click. Detailed analysis is therefore child's play for small and medium-sized companies as well.
Which information is actually relevant for us?
For example, with the "No. of applications per channel", you can check which platforms perform particularly well in respect of your job ads. The "Time to internal feedback" can be an interesting indicator of internal processes: how long do your candidates have to wait for the recruiter to receive a final decision from the department that is recruiting?
One important indicator is the number of suitable employees that you, as a company, are able to recruit in the long run - through which channels did these candidates find out about you and which members of staff were responsible for recruiting them ("Quality of hire"). Recruiting suitable employees may be a big challenge - keeping them an even bigger one. A high staff turnover means enormous costs for the company. When someone gives notice, the employer not only loses a valuable resource, but a replacement must be found as quickly as possible – the cost of the job ad and application process ("Cost per hire") may be extremely high if it is for a leadership position or a highly specialised job. If a replacement cannot be found in time and the position remains vacant for several months, there is an additional cost to the company on a daily basis ("Cost of vacancy").
And what do we do with these findings?
Calculating any particular KPI always has the same goal: to discover potential for improvement – and therefore also potential cost savings.
Why not test your own recruitment process by putting yourself in the role of a candidate applying to your organisation? This will help you improve your application process – and, in the long run, also your candidate experience. You can use information about the performance of job ads on various job platforms to focus your budget on the recruitment channels that are most appropriate for your specific vacancies.
Furthermore, from the KPIs for employees and teams, you can develop initiatives aimed at staff retention, such as training, promotion or additional benefits. Do you have long-term low performers among your staff? First of all, make sure you complete a full personal appraisal - give the employee a chance to improve before you think about terminating the contract.
Would you like to know more about using these and other findings to ensure efficient recruitment workflow, perfect HR management and optimum use of your budget? Find out more about software solutions from CareerBuilder - and talk to one of our experts today!
These articles may also interest you:
Big data for HR: 6 habits of highly successful employers
HR and company strategy on the same wavelength
Cloud vs Desktop: How to find the perfect ATS for your organisation
How to convince your boss to invest in HR technology
Image: © Rawpixel - shutterstock.com