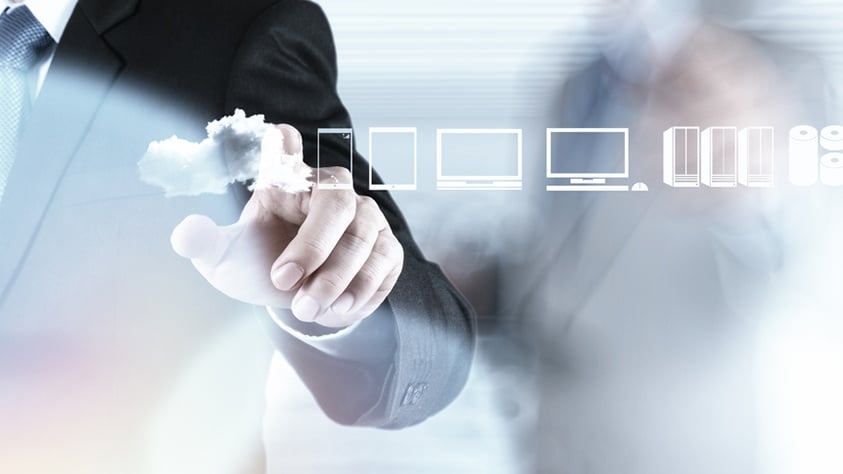 Whether Skype or Dropbox – everyone has used cloud services at some point and found them useful. In business an increasing number of users are also moving to cloud-based services. How to find out if this could also be a good solution for your ATS:
Why use an ATS in the first place?
High dropout rates for online applications and difficulties in recruiting skilled staff: medium-sized companies may also benefit from using ATS software. This enables your company's entire recruitment process to be handled by a software tool that allows faster, simpler and more effective management – with the long-term goal of saving time and money.
Two software worlds
As in many other areas, professional HR software is also available either as a version that can be installed on a company server and used with a desktop client (for example, your company's own ERP or Office software connected to network drives or databases); or through cloud computing as so-called 'Software as a Service' (SaaS). Whilst with the desktop version data is saved on a local server, with the cloud version it is stored with an external service provider, allowing customer access via the internet. The principle is similar to using the services of a cloud storage provider (e.g. Dropbox or Google Drive).
But which version is right for your recruitment team and what do you need to consider before purchasing? We have carefully examined the pros and cons.
4 out of every 5 companies reduce their costs by 10-20 percent with cloud computing
This was shown in a survey by Speedpath, the Irish cloud telephony services provider. A major advantage of a cloud-based solution is without doubt the potential cost savings. As a rule, providers of cloud services offer their solutions to a large number of clients, meaning they can provide services at a considerably lower cost than an individual company could. And you avoid the cost of implementing expensive software in your company's own IT system entirely.
Fast and flexible – even for the "tech adverse"
Technical know-how is also not necessary: system maintenance (e.g. the installation of updates) is carried out by the SaaS provider. In addition, they often offer their customers a professional 24/7 service that is rarely possible to provide in-house.
As with desktop software vendors, providers of cloud services work with flexible licensing arrangements that can be tailored to your requirements. Because you don't have to install the software separately on every employee's PC, new employees, for example, have quick access to the cloud via a simple login.
(Almost) always available everywhere
Using cloud computing means employees can access, edit and share important data worldwide - in real time - using a computer tool. And logging in from a smartphone or tablet is no problem. The one drawback: if the internet connection is unreliable, cloud computing will also be a problem. Provided you are using a company network, locally installed software clearly the winner here.
Careful!: Data Protection
The Data Protection Act stipulates that data must not be transferred outside the UK without adequate protection. In choosing a cloud company it is therefore essential to make sure that the company's servers are located within the EU or in a country party to the European Economic Area Agreement because responsibility for data protection and data security lies solely with the users of cloud computing services. You should note, SaaS providers are well aware of the importance of data protection and security and as a rule, they pay great attention to system stability, backups and security of the data they are entrusted with. Therefore they often provide better IT security than, for example, what IT departments in small and medium-sized companies could provide.
The most important points
On-site Software
- It is also possible to use the software when there is no internet connection
- Not dependent on one particular provider and its IT services
- Potentially less danger of contravening data protection regulations
Cloud Computing
- Not necessary to implement within the company's own IT system
- No IT expertise required
- Flexible number of users and scope (licenses); flexibility in case of internal relocation
- No long-term capital outlay because the IT services are only rented
- By selecting a suitable provider, compliance with data protection regulations is guaranteed
- Cost-effective global coverage
- Service and maintenance provided by a competent cloud computing company, guaranteeing use of best available technology
- No installation costs for the user, flexibility in the event of increased resources or internal reorganisation.
- No local data storage required
Image: © everything possible - Shutterstock.com