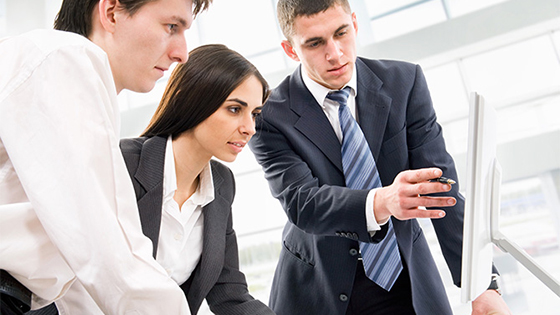 "If you don't have a good recruiting system in place, you're going to lose a lot of great candidates," said John Hinojos, vice president of consulting services at HRchitect, at the recent ERE West Conference in San Diego. "Your platform is the face of your company."
While it's important to have a good recruiting technology in place, it's equally as important to gain company-wide adoption. Otherwise, he says, "without good adoption, you won't get your planned ROI. Your systems and integration of data will be meaningless."
During his presentation, "Launching and Integrating New Recruiting Technology/Systems," Hinojos addressed the essentials of how to successfully launch and integrate new recruiting technology systems, providing the following key elements of system adoption:
1. Obtain key stakeholder buy-in early and often.
This includes everyone who touches the system – not just recruiters and people in HR. Show them how it will help the recruiting process, how it will save time and how it will help the bottom line. (See "Communicate Early…" tips below.)
2. It should match your corporate culture.
Does it look like you're seamlessly going from your web page into your CMS? Make sure you're using the same tone. Otherwise, people won't use it.
3. Check the system's ease of use.
If you can walk away from a demo thinking, "I could use that now, with no training," that's probably the system you should use.
4. Have a change management plan.
Be ready and willing to invest time and effort into the project. (See "Final Thoughts" below)
5. Isolate and target those user groups who may hinder adoption.
Who in your organisation is going to be most resistant to this change? Have a plan for dealing with them.
6. You also need some cheerleaders.
Find people within the company who support the change and will work as ambassadors to rally others around it.
7. Remember: Training should be an on-going effort.
Don't train just once, at the start or when just going live, for two reasons: 1) People will leave, and 2) you'll probably have upgrades to the system. (Consider offering a bonus or monetary reward to engage people and incentivise them to use the system.)
8. Do use focus groups to see how easy the system was to use.
Use new hires or recent applicants as your testers. Track those who actually follow through and those who fall off so you can find out why it's happening and fix it.
9. Remember: Not all browsers are created equal.
Consider the differences between various browsers – Internet Explorer, Chrome, Firefox, Safari – they may all work differently within the system. Make sure you test the system on every browser so you know what the experience is like. Then, train people on the idiosyncrasies of the various systems.
Communicate Early…
"Adoption is a marketing – not a technology – project," Hinojos reminded the audience. A good communication plan is key to gaining buy-in from users and key company stakeholders. When "selling" new recruiting technology to those involved, make sure you can articulate the following:
The reason for the change: Why is a new recruiting technology necessary?
The value of system to the company and its employees. How will this new recruiting technology make their lives easier? How will it affect the bottom line?
Your strategy: How will you implement the change?
…And Often
Most importantly, stay consistent. Consider creating an internal email newsletter or blog to keep people in the know. You could also launch a contest or game to engage people and get them interested in using the new recruiting technology. Social media is also an effective way to raise awareness about the software.
Final Thoughts

Change doesn't come without its growing pains. Keep the following in mind as you roll out your new recruiting technology.
Don't set up with arbitrary implementation and roll out dates. Plan accordingly – there's never enough time.
Less is best. Don't over complicate.
Take things slow.
Have the right team in place.
Become friends with your IT team.
Maintain a good vendor relationships – old and new. Share successes and challenges.
Things are bound to go wrong at first. Make room for a lot of testing time.
Review connectivity from within your organization. Know the rules for piercing the firewall.
Create a company policy around using the new recruiting technology.
Remember: There are times when good systems go bad. Expect to have trouble along the way. Have a plan in place to deal with it.
Implementing and adopting new recruitment technology is often a lengthy and intensive process; however, the time and effort invested will pay off in the long run, saving you not only time and money, but it will decrease headaches and stress while increasing the productivity of your recruiting team.
Image: © Konstantin Chagin - Shutterstock.com