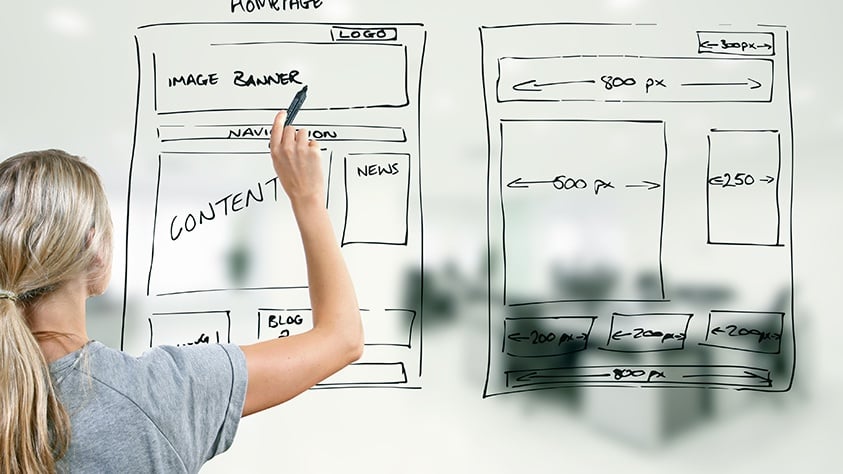 Company career sites are one of the first - and most popular - points of contact for job applicants. They therefore assume a key function in the recruitment process. The first impression that candidates get of your company, your employer brand and your company culture can be a determining factor in whether they decide to apply for a vacancy or not. An attractive career website and correct marketing of your own employer brand can be a significant competitive advantage, particularly when eligible candidates have the choice of several vacancies.
We show you 10 success factors for effective career sites, how they effect your Candidate Experience and how they help you in the war for top talent.
Search Engine-Friendly Pages
The vast majority of applicants use search engines such as Google for job hunting – the trend: rising. Make use of this trend for your career website and plan appropriate measures for search engine optimisation (SEO) and search engine marketing (SEM).
Corporate Design & Storytelling
Your career website is the ideal platform for marketing your company's history and culture (Employer Brand). Images and videos often say more than a thousand words: show applicants how employees in your company actually work, making it as authentic as possible.
User-Friendly Interface
Is the layout of your career website clear and self-explanatory? Do text and design elements go well together? And can visitors quickly find what they want? Make a user-friendly career website your utmost priority. Provide interesting content that can also be easily accessed via the homepage and ensure that your pages offer obvious added value.
Job Ads & Embedded Video
Describe the vacancy and your expectations of the perfect candidate in you job ad in as much detail as possible. Or present your employer brand in a short video, letting employees talk about their jobs and experience - a good insight into your company culture in the truest sense of the word. This demonstrates credibility and shows applicants that you regard your employees as your most important resource.
Responsive Design
Almost 50 percent of applicants are already using mobile devices to find a new career challenge. So make sure that your career site is also optimised for mobile devices such as tablets and smartphones. A good solution is provided by so-called Responsive Design, which automatically adjusts the contents of the website to the size of the browser being used, thus guaranteeing an ideal Candidate Experience at all times.
Simple Call-to-Action (CTA)
Overcrowded pages and complicated processes can be a deterrent and result in candidates leaving your career pages after a few seconds. Use a clear and simple design, as well as unambiguous CTA buttons, which take visitors professionally and logically through the contents. This also encourages them to be "active", i.e. by selecting a video, registering in your candidate pool or submitting an application.
Short Application Form
An application process should ideally take no longer than 30 minutes. 62 percent of people actually wish it didn't last more than 20 minutes. Test your online application process by putting yourself in the candidate's shoes. To simplify the process, identify questions that you can do without during the first stage.
Mobile Applications
70 percent of candidates would like to apply using a mobile device, for example by linking to their social media profile or uploading documents from their Dropbox. Assuming that a company offers such possibilities. Are you one of them?
Speculative Applications & Uploading of CVs
Offer candidates the choice of just uploading their CV, instead of having to go through the complete application process for a specific vacancy. That way you prevent interesting and possibly highly skilled candidates from leaving your site - and most probably never returning – just because they didn't find a suitable vacancy.
Candidate Pool
Offer candidates the possibility of not only making a speculative application, but also registering in your company's candidate pool to receive regular details of current jobs and company news. And your recruitment team can then contact candidates proactively, meaning that it may be possible to fill a new vacancy faster.
Image: © ronstik - Shutterstock.com