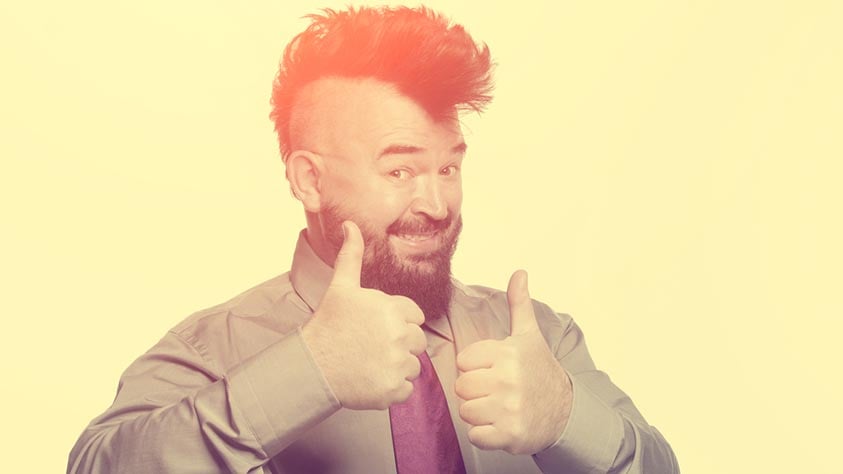 Every company wants to find the best people. Accurate job profiles form the basis for this. But too many specific requirements may mean that valuable staff evade you. Here you can find out when it's worth taking a closer look.
Discrimination on grounds of an applicant's ethnic origin, sex, religion, ideology, disability, age or sexual orientation is not allowed in the selection process and is highly unprofessional. But, by applying across-the-board selection criteria, HR professionals can unintentionally suffer from tunnel vision and are in danger of overlooking valuable talent.
A clearly defined job profile is of course necessary for an efficient recruitment process that doesn't result in exploding costs. After all, it's not possible to invite every applicant to an interview. But due to clichés and formal criteria, there is often a fine sieve through which only uniform candidates pass. Unpolished gems that could be a real asset to the company don't get past the initial screening stage. Here are some examples of when it's worth taking a closer look at an applicant:
Unemployed doesn't mean unemployable
Only very few of the long-term unemployed find their way back into a job. In many cases this has nothing to do with a lack of qualifications or unwillingness to work. Highly qualified professionals can end up on the street due to takeovers, insolvency or company cost cutting exercises - through no fault of their own. Those who don't manage to find their feet in a new company straight away become stigmatised, and after a time this stigma is almost impossible to remove. "In Germany unemployment is regarded as a personal failure, not as systematic" was one comment by someone affected by it, in an interview for Spiegel Online. But unemployed doesn't automatically mean unemployable. Recruiters shouldn't reject an application just because there are a few gaps in the CV. It's certainly worth taking a closer look a the applicant's qualifications, what motivates them and the reason for the period of unemployment.
Too good for the job
Hard to believe, but 'overqualified' is one of the most common reasons for rejecting applications. Why? Because it's automatically assumed that the applicant has chosen a stopgap due to lack of alternatives. But a bird in the hand is worth two in the bush. Overqualified candidates are seen as problematic because they may have difficulties fitting into the hierarchy. Bored with their work, it's only a matter of time before they move on to the next interesting job. Many recruiters also assume they will not be able to meet the candidate's salary expectations. But there are experienced candidates who have made a conscious decision to 'down shift'. It may be they want to spend more time with the family or are looking for a job with less pressure and fewer responsibilities than their last one. This is often the case with employees over 45. Someone who is credible and convincing about wanting to move to a less demanding role could prove to be a stroke of luck for your company in terms of experience and skills.
Graduates only?
What makes an applicant more valuable to a company: successfully completed vocational training/a university degree or many years' professional experience? Opinion is divided on this issue. Very few of today's leadership positions are still held by managers without any form of higher education. According to the results of a survey by top executive researcher Michael Hartmann, one in ten senior executives born before 1960 have no university degree. Among the younger ones, only one in twenty are 'non-academics'. Many company directors regret this development. Although junior staff are very well educated, they are also extremely uniform.
Many undergraduates don't complete their university degrees. The reasons for dropping out can be very different and not always due to laziness or poor grades. Such people have still acquired knowledge and many of them go on to gain valuable expertise in a company over time. But should they wish to pursue their career with another organisation, without having finished a degree or vocational training course, they will generally not get past the initial screening stage. Why? Because companies put too much emphasis on formal selection criteria such as university grades. But without relevant professional experience, even the best university degree is useless. It's worth recruiters taking a closer look at the candidate short list.
Outsiders can be a breath of fresh air
People applying for jobs outside of their specialist area are often rejected before the interview stage. This is because companies look for applications that match the job as closely as possible. Sometimes desirable soft skills automatically take a back seat, as does the fact that people changing career can often bring new perspectives and innovative ideas to the company. What's more the employee should become productive in the shortest possible time. Naturally you can't expect this from someone coming from a different industry or area. However, recruiters conveniently forget that searching for a suitable candidate can sometimes take longer than training someone from a different professional or educational background, who as a rule can also be more easily moulded to the job.
These articles may also interest you:
University grads: Are you ready for the workforce?
How to hire the next Steve Jobs: 10 Tips from his former boss
Millennials are over: it's time for Generation Z
HR and company strategy on the same wavelength
7 habits of highly successful recruiters
Image: © Anton Watman - Shutterstock.com