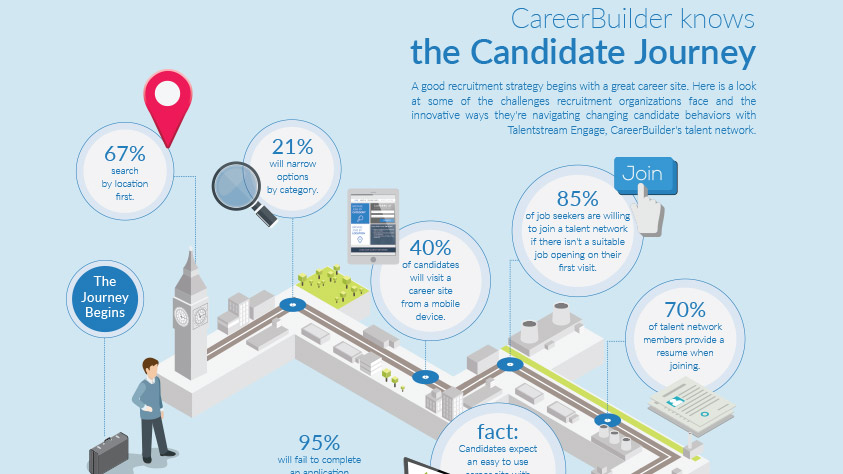 Learning more about why your candidates stick with your process or leave it can produce great results. While candidate journeys get more complex, companies need to give themselves the best chance to connect and nurture candidates.
Candidates expect an easy application process and much more feedback
Employers ignore the candidate experience at their own peril. The 2014 Candidate Experience Awards, which asked 95,000 job applicants about their experience applying to companies, revealed that candidates take much more out of their applications than a job or rejection. 24% of survey respondents said a positive candidate experience could increase their affinity for that company's brand and products. And for roughly 48% of respondents, applying for a job is the first time they're really exposed to the company, making this first impression incredibly important.
But: we can "steal" a trick from marketers that helps them visualise the experience of their product and pivot it to focus on making a candidate's experience with your company better. The trick? A Journey Map.
A journey map, then, is a way of figuring out how the client is going to interact with your product (whether it's a commodity or a job application) by seeing how their interactions play out, often in the form of a flow chart. This allows you to plan the process from beginning to end, so you know where the client is in your map at all times, and your company knows what they should be doing with this client at any given time. Simply substitute candidate for customer or client and you understand what we're trying to do: improve candidate experience.
A good recruitment strategy begins with a great career site.
We have visualised the most important steps of a candidate journey map: Download our infographic and learn more about the characteristics of a good candidate experience, about the challenges in HR – and how to navigate changing candidate behaviors with Talentstream Engage, CareerBuilder's talent network.