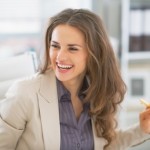 You know that creating a positive company culture, where employees are motivated and happy to come to work, is one of the best ways to attract and retain the best talent and improve productivity – but how can you achieve that when resources are limited?
Big tech companies, like IBM, Google and Facebook, are famed for offering impressive employee perks, but there are ways that smaller businesses can create a positive company culture too, according to Dr Jill Miller, Research Adviser at the CIPD.
'It's not always about funky décor or even the monetary value of benefits. Employees value companies that actively encourage a good work/life balance and have processes in place that make them feel their wellbeing is cared about.
'Having values in place and recognising and rewarding employees' contribution to the success of the company doesn't necessarily require huge resources. Sometimes, small-scale initiatives can be just as effective.'
If you're considering introducing some new employee benefits, check out our round-up of employee perks offered by UK companies for inspiration…
Dreamball machine
Named 'best small business workplace in the UK 2013', Brighton-based digital agency Propellernet is justifiably proud of its perks – like the Dreamball machine. Employees put their ambitions (swim with dolphins? see the Northern Lights?) in the lottery-style machine and when the company reaches a target, someone's dream is selected to come true.
Happiness day
When it comes to making employees happy, Manchester-based firm Robertson Cooper leads by example. The company, which promotes the benefits of employee well-being, gives its workers an extra day's leave to do something they enjoy – plus £50 to spend doing it. The only requirement is that employees report back to the team on what they got up to.
Company barge
When it's hot outside, there's nothing better than messing about on the water. Employees at Worcester-based tech firm Postcode Anywhere can take one of several kayaks out in their lunch break (a good way to ensure employees stay fit and healthy) or even book out the company barge for an evening.
Office toys and gizmos
A positive work environment can make a real difference to your day. As well as providing a pool table, darts board and X-Box, Cirencester games firm Neon Play gives each new hire £100 to spend on a toy or decoration for the office (remote-controlled helicopter or funky painting anyone?). Employees also get their birthday off.
Helter Skelter and unlimited holiday
Sheffield software firm WANdisco takes 'funky work environment' to the next level with an office Helter Skelter. In addition, employees have unlimited holiday allowance. "We work on the basis of trust and responsibility, so you can take as much vacation time as you need, providing you get the job done," the company's site states.
Giant swings and golf
Continuing the playground theme, Southampton based web hosting firm PEER 1 Hosting boasts a slide, giant swings, a putting green and an office pub. Staff also benefit from flexible work schedules, numerous sabbatical opportunities and a personal development programme. Each employee is given an annual training allowance to spend how they wish. For example, if an employee is a keen cook, they can spend it on a cookery course, it doesn't have to be related to their job.
Staff team building
Public relations agency Fourth Day PR encourages its workers to enjoy a good work/life balance. Day to day, employees are encouraged to spend time out of the office and eat lunch away from their desks. The company also holds regular brainstorms out of the office in 'inspirational' settings (including a French chateau) and has even taken workers to Marrakech on a team building holiday.
Beach Ibiza office
Ranked amongst the 2014 Times Top 100 Best Companies to Work For, Global energy recruitment company Spencer Ogden has an innovative incentive scheme. The company rewards its top performers by sending them to 'work' at their beach office in Ibiza. Staff also get to spin a roulette wheel to earn extra bonuses. Every time an employee makes a deal, they get a number on the wheel. More deals mean more chances to win.
Image: © Alliance - Fotolia.com