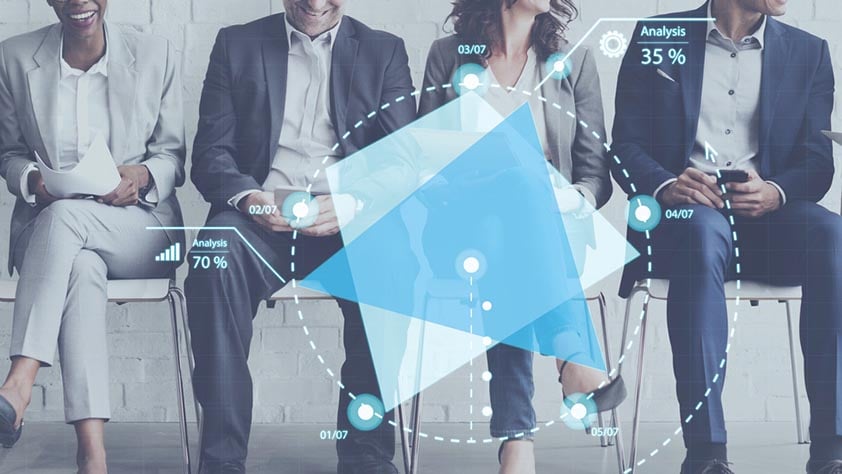 Do you ever wonder how companies like Google and Facebook consistently rank on "Best Places to Work" lists? It's more than fancy perks – like free gourmet meals and snacks, pet-friendly offices, nap pods, or in-office massages – that make employees clamor to work at these companies.
The secret to the success of companies like these? WORKFORCE DATA.
Smart companies are able to position themselves as best places to work because they rely on data to inform all of their recruitment decisions. They gather data on everything from job seeker and employee perceptions, behaviours and desires (including the aforementioned "fancy perks" employees want most) to industry trends and talent supply and demand. Then they analyse this data to gain meaningful insight that helps them understand where to focus their recruitment efforts to get the best return on their investment.
Consider the following habits of companies who successfully recruit with data:
They accept data as a crucial element of their business strategy
As the people operations team at Google (what the company calls their HR department) has said, "All people decisions at Google are based on data and analytics." Companies have long used data as the basis for their marketing efforts, to both build their consumer brand and increase customer engagement and loyalty. Now, today's best employers are applying the same efforts to their recruitment processes. They accept data as a crucial element of their business strategy.
They know it's not your data that matters – it's what you do with it
Having data doesn't do much for a company on its own; knowing how to apply that data to make smart business decisions is the other (absolutely crucial) element. Not only do successful companies gather data on job seekers, employees and the industry overall — they go the extra mile to ensure they understand the key insights behind what the data is telling them so they can use it in their everyday functions. They also understand that no matter how good their data is, if they don't apply it to their recruitment efforts, it's utterly useless.
They set measurable goals.
As with any business strategy, it's important to start with a solid goal in mind. It's easy to get overwhelmed or confused by the sheer abundance of data out there, so having a focused goal is crucial to help you narrow your efforts and stay focused. Data is an investment. Part of that investment should include finding a trustworthy data expert who can help you decide which data points to focus on to meet your business's goals, then guide you as you evaluate the data and create a strategy around this intelligence.
They know data is not one-size-fits-all.
All businesses have unique needs, and data plays a big part in that. Comparing another company's data to yours — or adopting another company's practices to make key business or recruitment decisions — won't help you one bit (and it could hurt you). Instead, tap into data experts who specialise in helping employers understand which types of data will help them meet their own unique goals. They'll take into account the various factors that affect your organisation and its recruitment efforts — which is the only data you need to focus on.
They accept that there's always room for improvement
No matter how efficient your current process is, there is always room for improvement or enhancement. Often, employers turn a blind eye to data because they don't want to face the possibility of challenges to their recruitment process. While ignorance may temporarily seem like bliss, it comes at a rather large price. Smart employers believe there's no such thing as "negative" data: Every piece of information data reveals an opportunity to enhance their strategy and make them even stronger as an organisation. They accept that there's always room for improvement.
The bottomline? Making smart decisions comes down to creating context and meaning around your data.
Perhaps Jonathan Rosenberg, advisor to Google CEO Larry Page, said it best when he wrote, "Data is the sword of the 21st century. Those who wield it well, the Samurai." Getting the competitive advantage in today's market isn't about having the strongest data (or the sharpest sword), but about knowing how to use it as well. Those employers who understand this concept will have a competitive advantage — both now and in the long term — when it comes to attracting and retaining their greatest business asset: their employees.
Get our free e-book now!
Successful recruiting with Big Data is only one roadblock for HR experts. Want to learn more about the five biggest challenges in recruiting? Our free e-book can help you!
Image: © Rawpixel.com - Shutterstock.com