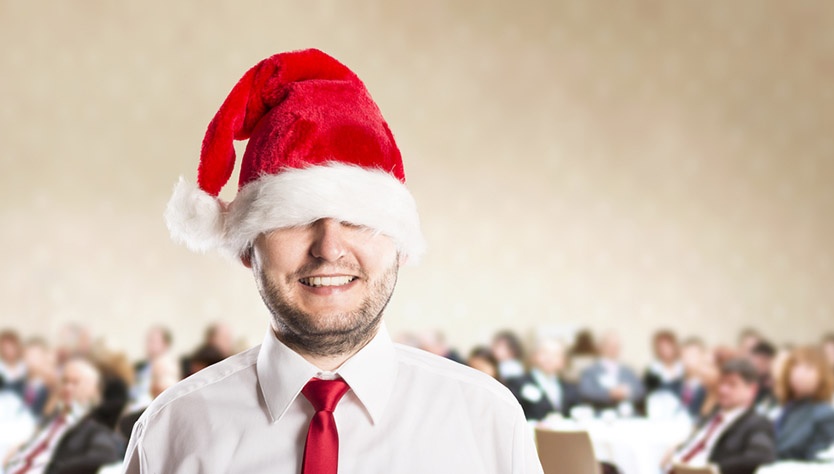 It comes round every year - the invitation to the company Christmas party. But what sounds like an enjoyable get-together is, for some people, a trying exercise in etiquette. And it is not just employees who should know how to behave in a relaxed social situation with colleagues and superiors. As host, the boss also needs to observe a few rules, so that afterwards everyone can say: "it was a really nice evening!"
The format
Mulled wine and mince pies in the conference room or skiing at a local indoor snow centre? A successful Christmas event doesn't have to be either of these extremes. First and foremost, it should create a personal atmosphere in which senior management can show its appreciation and thanks to staff. The more unusual the planned event, the more difficult it is to make it appeal to everyone. On the other hand, if it's done on the back burner, employees are not likely to feel appreciated. Apropos appreciation: if the number of people is manageable, it is a nice gesture when the boss welcomes each employee personally.
Accept or decline
Christmas parties generally take place outside of working hours, so legally no one is obliged to attend. But simply staying away from a company celebration without offering your apologies is not a good idea. Unless you wish to give your colleagues the impression that you would prefer almost anything else than their company. In which case, you can expect to be branded as arrogant. Should you have a genuine reason for not being able to attend the office Christmas party, it is good form to let your superior and colleagues know about it in good time. As host, the boss is obliged to be present and should stay at least until the official part of the evening is over.
Don't whinge
Even Father Christmas can't please everybody! Nevertheless, it is bad etiquette to moan about the food, wine or venue at the Christmas party. You can assume that the company has invested time, money and thought in putting together an enjoyable evening. You should acknowledge this, even if the event is not entirely to your taste.
Speeches & small talk
Management should best avoid excessive and long speeches. The outlook for the coming year, together will the expectations associated with it, does not belong at the Christmas party. On the contrary, the occasion should be used to thank employees for their loyalty and commitment, highlighting any special team achievements. After the speech, there is a good opportunity to talk to employees. Under no circumstances should the leadership team create a firewall by sitting together on a separate table: managers should be approachable, for example by moving from table to table during the evening, actively engaging in conversation. But be careful: the Christmas party is not a tough feedback session. Harmless small talk, for example about the weather or a recent holiday, will allow lively conversation to quickly develop between management and staff, and between colleagues who may not know each other very well.
No way!
The three biggest faux pas at any Christmas party are well known: drinking, gossiping and groping. Nevertheless, every year someone ends up putting their foot in it in one or more of these areas. Those drinking alcohol should also grab a glass of water now and then, and switch to soft drinks in good time. This will ensure they don't lose all their inhibitions and risk a rude awakening the next day. Don't join in gossip about colleagues and superiors, irrespective of whether they are present or not. If you notice the conversation heading in this direction, retreat gracefully. And, even though people like to forget this later in the evening: the Christmas party is a company event. Any type of intimacy should therefore be avoided, unless you want to be THE topic for the office grapevine in the coming weeks.
Consequences
Those who misbehave at the office Christmas party have to live with the consequences. Managers are also faced with unpleasant situations when the behaviour of their staff is excessive – for example when two colleagues are "caught" red-handed or someone has to be asked to leave the party due to excessive alcohol consumption. The boss will decide how to deal with such faux pas the next day, on an individual basis. But the employee concerned can always expect an uncomfortable conversation.
Image: © Halfpoint - Shutterstock.com