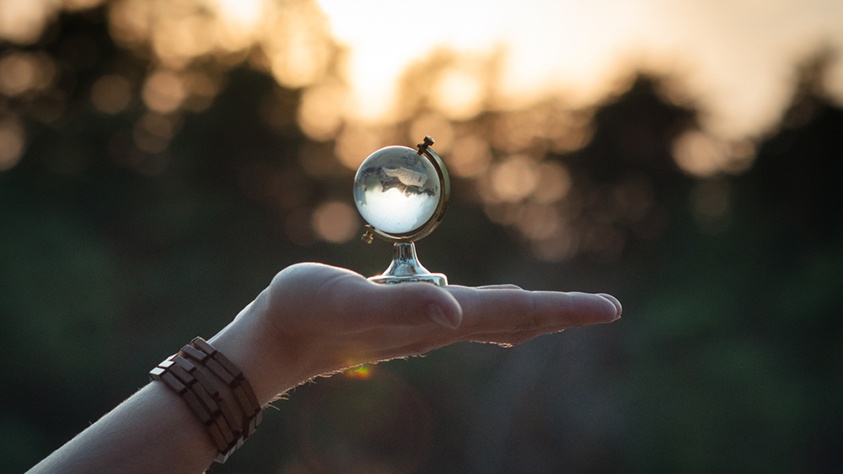 The game goes like this: You need to send a message to someone you don't know anywhere in the world. All you have is the name of the person, but no address, telephone number or email. You're not allowed to google, and any other kind of research is against the rules. All you can do is ask your contacts to forward the message. Who you choose to send it to is completely irrelevant, since the likelihood of one of your own acquaintances knowing the intended recipient is, after all, practically nil. But this changes when they in turn follow the same process by forwarding the message to their selected contacts. When do you think the message will reach its destination?
Today the number of links separating someone from anyone else is 4.74
Your greeting will probably be forwarded just six or seven times before it reaches the unknown recipient – whether they're in the Bahamas, Singapore or a small town in Bavaria. "Six degrees of separation" is the phenomenon first identified by the American psychologist Stanley Milgram – astonishingly as early as the 1950s. Then, the experiment described above was conducted exclusively by post. More recent studies not only confirm this small-world syndrome, but also that social networks have even reduced the number of indirect links between any two people. In 2011 a team of researchers from the US & Italy analysed 69 billion connections of Facebook users and found the average number of links between any two random members to be 4.74 contacts.
Reach any candidate via your own employees
So the world really is a village. And there's truth in the "small world" cliché that surprised holidaymakers like to exclaim around the hotel bar. But what does all this have to do with HR? Returning to our experiment at the start, we can replace the word "recipient" with "ideal candidate" and "acquaintance" with "employee". As a recruiter, it means you can reach top candidates anywhere in the world via your own employees. This, combined with the fact that 40 percent of all vacancies filled externally come through referrals, makes your own employees valuable members of your recruitment team.
Referrals as a secret weapon in recruitment
33 percent of all employees in Europe find their jobs through personal contacts. In top management this is even more significant. Why? Because people trust recommendations from friends, acquaintances or even strangers in a similar situation more than company promises. Employee referrals are therefore THE ultimate secret weapon for employer branding, fast recruitment and a good quality of hire. But colleagues must be happy to be part of the wider recruitment team, and join it based on conviction.
Contented employees spread good news
A high level of employee satisfaction is a prerequisite for this type of recruitment activity. And referral programmes such as SocialReferral make the process easier. Satisfied employees are happy to talk about their employer and will share appropriate content in social media based on conviction. Incidentally, posts from employees are shared up to 24 times more than information that is only available on your company pages and profiles. So make use of your employees' social capital, i.e. their ever growing networking activities, and significantly increase your presence in the job market thanks to the "everyone knows everybody" principle. What's more, job adverts and employer-brand messages will have greater credibility.
The long-term motivational effect of referral programmes
Instead of just hoping for a stroke of luck, professional employee referral programmes can have a long-term motivational effect on your employees, and convey trust and appreciation. Because when an employee recommends someone, in the event of a successful hire, he or she should receive an award in a quick and uncomplicated way. This reward principle can also be used in respect of successfully shared employer-brand messages and extended to cover former employees, interns, customers and business partners. Make the recruitment world one big village by allowing your employees to use social networks such as LinkedIn, Facebook and Twitter at work, and encourage them to share job adverts and other content that you make easily available to them.
The CareerBuilder e-Book: Everything you need to know about employee referrals
Our e-Book "Employee Referral Programmes – How to make your employees ambassadors and headhunters" contains everything you need to know about this subject. Facts and figures will give you an idea of the recruitment potential offered by your own employees and practical tips show you ways to quickly implement an effective employee referral programme in your own organisation.
Image: © Kycheryavuy - Shutterstock.com