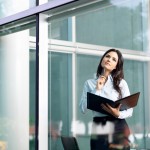 You're used to putting questions to your team and senior management – but what about yourself? Continually asking yourself questions can open you up to new ideas and possibilities and ensure that you and your team perform at your very best.
Here are seven questions great managers ask themselves every day…
1. What needs improvement?
Good managers are continuously looking for ways to improve business operations, so the first question to ask yourself is "what can be done better?"
'Being a change agent is not only good management practice, it's also a smart career move to get you noticed by those you want to impress,' says Corinne Mills, Managing Director of Personal Career Management.
'This means critically reviewing systems to increase their efficiency and creating the right conditions for staff to perform at their best.
'Challenging the status quo is never easy, but this will show your leadership potential and longer-term usefulness to the company over and above the constraints of your current job.'
2. Who should I be talking to?
Managers need to be constantly talking to their own team, internal stakeholders and key external people, such as customers, investors and partners.
'For this reason, it's essential to keep people on-board and engaged with the tasks ahead,' says Corinne.
'Informal conversations are a great way to access information and influence others, as well as providing an early warning system for problems and a vehicle for joint problem-solving. Conversations should be a key part of any manager's day.
3. Am I focusing on the right projects?
Managers often say there is too much change occurring within the business, making the latest project redundant before it is fully embedded, according to Peter Fennah, a Chartered Psychologist and accredited executive career coach at careersynergy.com.
So what's the best strategy? Peter suggests networking as high as you can to understand the demands on the business.
'Be clear to show how your new projects integrate with the organisation's strategy and become quicker at letting go of those projects that no longer align. Refocus your resources keeping some in reserve to both deal with unexpected distractions and ensure your team continues to learn, as this builds resilience.'
4. What's the competition doing?
It's easy to become inward looking and focus on the company's plans and strategies, but keeping an eye on the competition and industry as a whole is time well spent.
'Successful implementation trumps strategy every time, so has anything changed in the business environment to impair your implementation?' asks Peter.
'Have your competitors got a better strategy, but are failing to implement it successfully? What have you learnt from your customers about the perception of your business? What innovative ways can your team identify to enhance your processes, customer focus and profitability? Asking yourself these questions will help ensure you stay one step ahead.'
5. Are we measuring the right things?
As a manager, you need to be clear on your key priorities and what results you expect.
'Link these objectives to tight roles and responsibilities and this way you can quickly delegate saving you time,' says Peter.
'If you are going to do something new expect a drop in performance as people learn. Push back to those setting your own performance targets and highlight whereestablished rewards fail to reinforce the behaviours you need to deliver effective performance.
'If you need team collaboration and individual bonuses are where people's attention is at, then you need to find new rewards to motivate your team. Objectives change so have an intelligent conversation about what the business needs to measure and why.'
6. Am I living the values of my organisation?
Values are of increasing importance to new and existing employees within organisations, according to Claire McCartney, CIPD Adviser, Resourcing and Talent Planning.
'The ethics and cultural values of an organisation can make a huge difference as to whether employees stay or go. As a manager it is important to act in ways which role model those values and associated behaviours and ensure that team members also behave in ways which are aligned to the organisation.
'The CIPD's Employee Outlook survey shows a two year dip in trust in organisations so it is more important than ever that managers at every level demonstrate that they are ethical, trustworthy and living the values of the organisation.'
7. Am I effectively managing the performance of my team on a daily basis?
A third of employees believe that their performance management systems are unfair and more than a third think that there are no real career progression opportunities, according to the latest Employee Outlook research from the CIPD.
'Again, managers have an important role to play in changing these perceptions,' says Claire. 'With regard to managing performance it is not enough to hold a one-off discussion at appraisal time every year.'
'Managers should be holding regular monthly one-to-ones with team members so they have a shared understanding regarding their performance and how they are meeting objectives.
'Even if there are not readily available promotion opportunities, managers need to ask themselves what horizontal opportunities or cross-department project working they could use to help develop employees and provide them with extra experience.'
Image: © Aldo Murillo - iStockphoto.com