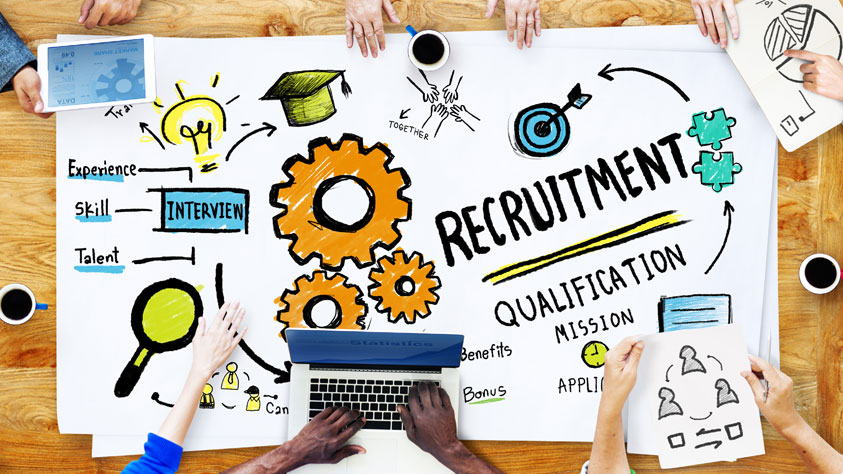 20 positions in the company that urgently need filling, a desk piled high with applications; and then there's the countless emails from staff waiting for their travel expenses: HR professionals have to deal with numerous, often complex tasks on a daily basis. Keeping track of things is a real work of art. We have put together a list of technologies that will not only enable you to work more efficiently, but also with less stress.
Generate interest & increase coverage: Job distribution

First of all comes the job advertisement. Job distribution technology, such as that from Broadbean, makes it very easy for you to automatically publish an advertisement you have compiled in all job portals that are relevant to your vacancy, on regional platforms and in social media networks. In this way, you can not only save time, but also increase the coverage of your job ad and thus increase the chances of finding the ideal candidate. Another advantage is that with just a few clicks you can evaluate which sources generate the best responses - making optimal use of your advertising budget.
The good ones into the pot: Assessment and screening tools
If you expect a large number of applications, it may be useful to have already set up a filter. Assessment and screening tools, such as the powerful CV Search from CareerBuilder, allow you to "flick through" a large number of CVs virtually, in a very short time. This useful module makes mountains of paperwork with countless Post-it notes a thing of the past. You begin by defining your search criteria, for example based on keywords; then you get a list of potential candidates that fit your search profile, sorted according to how well they meet these criteria. You can easily tag interesting candidates with a note and send the profile to the HR manager, by means of a simple click. Thanks to integrated communication templates, you can also contact promising candidates straight away. Assessment and screening tools are already an integral part of more efficient applicant tracking systems.
Everything at a glance: Applicant tracking systems
A professional applicant tracking system, such as the one from CareerBuilder, allows your entire recruitment workflow to be managed from a single platform: with just a few clicks you can post a job vacancy on your own career website and in key job portals; manage applications, candidates and interviews; send automatic emails to promising applicants; produce valuable reports, measure the success of your recruitment activities and, in the long-run, optimise your entire recruitment process.
For a quick first impression: Video interviews
Video interviews can be useful, particularly when you advertise vacancies nationwide or internationally. What if you receive a lot of applications and would, ideally, like to see almost all of the candidates? Then consider using pre-recorded video interviews. This particularly effective method of recruiting involves defining questions, application criteria and the available time to respond in advance. You then invite candidates to a video interview by email. Candidates then have a fixed time frame for answering the questions via a webcam, on their own and at their chosen time. You can then watch the recorded interviews at your convenience - several times if desired; and, in certain circumstances, you can not only make a sound decision, but also save the cost of reimbursing expensive travel.
Employee integration and retention: Onboarding and training
Filling a vacancy already presents the next challenge. Professional onboarding not only increases new-employee satisfaction, it also shortens the induction period. This is where professional HR management systems come into play, saving you tedious paperwork. Online check lists will automatically ensure that new employees fill out all necessary forms and complete important induction training – giving you more time to personally take care of new hires.
Regular training and a wide choice of interesting ongoing learning opportunities within the company are important for employee motivation. For example, make use of webinars, online courses or video workshops to provide your employees with useful information, or to make new projects attractive. Here, the use of professional training software can also make sense for planning customised training courses, tracking what your employees have completed and for automatically issuing certificates.
Making administration easier: HR management software
Finally, a permanent issue is the management of employee data and the processes associated with it. HR management systems often offer all-round features that make your everyday HR work significantly easier. For example, you can coordinate holiday applications, agreed goals and travel expenses/payroll information with just a few clicks. So that you finally have time to deal with what's really important: your employees.
Our experts look forward to showing you how CareerBuilder's technology can support your organisation. Make an appointment for a short 30-minute demonstration here:
Sources: http://personalmarketing2null.de/2013/03/22/personalauswahl-und-recruiting-mit-zeitversetzten-videointerviews/, http://www.hrmdirect.com/human-resources-software/paperless-onboarding/, http://www.intelex.com/Training_Management-54-5product.aspx
Image: © Rawpixel - shutterstock.com