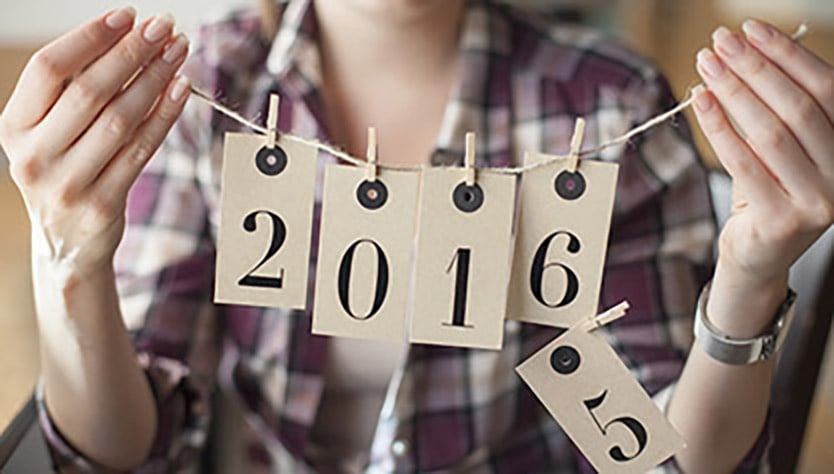 Have you ever asked yourself why we regularly undertake to change things in January? Why don't we make new resolutions on a sunny day in July? Probably because most people need closure of some kind to give them room for new things. "The beginning is an end" is how the German philosopher and author Manfred Hinrich put it. In a few days, at the turn of the year, we will be celebrating this auspicious combination of beginning and end: the best opportunity to take stock, make a fresh start and plan changes – not only privately, but also at work.
Without definite plans, good intentions are generally forgotten
As an employer, it is possible to make New Year's resolutions at various levels. Firstly, there are the personal changes that you aspire to at work. This may be the desire for better self-management, or the intention to organise your daily routine in a more healthy way. The skill of delegating is also on the list of things that many managers wish to improve. What is important for this is making time to review the past year in peace and quiet. Too many New Year's resolutions make implementation difficult. It is better to concentrate on the most important ones. And, so that they are not forgotten after the first hectic week back in the office, it's worth making a note of some specific personal goals and putting together a plan, with milestones and deadlines. A small reward for each milestone reached will help to keep you on the ball.
Make New Year's resolutions as an employer too
As well as your personal goals, there are also improvements that you wish to achieve for your employees as a employer - the good intentions in HR so to speak. We have a few examples:
Successfully integrate new employees
Integrating new employees quickly and effectively into the company is particularly important in terms of diversity management. If you value cultural diversity in your organisation, you may wish to review your HR marketing activities, as well as your onboarding and induction processes for potential improvements. How do you reach various applicant target groups? What special features does your recruitment process offer in this respect? How are new employees welcomed to the company and how is integration made easier?
Your resolution as an employer: to encourage integration of new employees and a feeling of belonging right from the beginning.
Develop strong values
Think about the values and principles that are practised in your company, and which groups of employees are involved in their development. There should always be an opportunity to discuss and develop corporate guidelines. This is more inspiring and motivating than when guidelines are dictated by company management.
Your resolution as an employer: to create values that are practised by your staff with complete conviction.
Pay attention to open communication
If staff feel excluded from information flows, this is reflected in mistrust in the company and a lack of motivation. You could review your internal communication processes in the coming year. Corporate knowledge management also falls into this category. For example, how do you ensure knowledge transfer between employees?
Your resolution as an employer: to ensure open communication between employees and different management levels.
Acknowledge achievement
Valuing the efforts of your employees and rewarding particular achievements is important in creating a good work culture. For example, you can acknowledge innovation, turnover, long service or good team work. Rewards can be both material and immaterial ones.
Your resolution as an employer: to recognise and reward good achievements and performance. Show that valuing staff is an important element of corporate culture.
Offer potential for development
Employees wishing to develop themselves, and who are able to do this in your company, show more commitment than those not offered such prospects. Review your training and development concept. What does the company offer in respect of professional and personal development? How is employee training and development encouraged in everyday work?
Your resolution as an employer: to give every employee the opportunity to maximise his or her potential and to develop professionally.
Be caring
As an employer, providing "care" for employees means regarding them as whole people, including their needs and individual life situation. Important areas are providing a good work-life balance, offering support in emergencies and offering company health management.
Your resolution as an employer: to care about the wellbeing and work-life balance of every individual employee.
Celebrate together
Those who work together should be able to celebrate joint success with one another. The value of activities that improve team work and encourage fun, both in everyday work and outside of it, is often underestimated. What occasions are celebrated in your company and what form do they take? Are staff able to contribute their own ideas for this?
Your resolution as an employer: to develop and promote activities that encourage team spirit, loyalty and staff motivation.
Image: © mert can dogan - Shutterstock.com