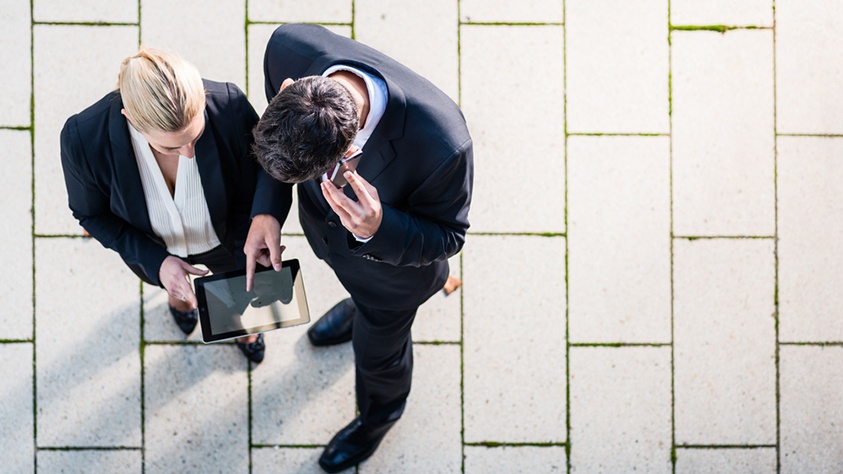 Cloud computing is currently one of the biggest trends worldwide, with the industry expecting a growth of 15 percent by 2018. In addition to private users making greater use of cloud services like Dropbox, an ever increasing number of companies are also taking advantage of the new technology. It allows not only flexible working, but can also significantly increase employee productivity in the long term.
We show you how you can kill two birds with one stone - through the clever use of web-based HR software.
Home working as a competitive advantage and employee engagement measure
Flexible working arrangements, where employees themselves can decide whether they work in the office or from home, are of increasing interest to employers and management. This modern management approach should make it easier to combine private and professional life - particularly for employees with children or family members in need of care. But young university graduates too are no longer prepared to do without a good work-life balance. Where skilled candidates are able to choose between various job offers, it is highly likely they will choose the company that offers just these benefits.
Connected at all times thanks to cloud computing
For companies operating with global teams in particular, it often makes no difference whether individual employees work in the office or from home. Modern technology, such as video conferencing, instant messaging and web-based software-as-a-service (SaaS) solutions allow easy access to important information from any location - connecting teams and colleagues worldwide. For example, by using cloud-based applicant tracking software, your recruiters can easily log in to the system from a mobile device or via their home internet; to review candidate profiles, access 'big data', do analysis, exchange files, … You can completely dispense with the laborious and time-consuming task of sending files and documents by email.
Maximum efficiency with the latest technology
By opting for cloud computing, it is also very easy to outsource your IT department. This not only reduces costs, but is also often accompanied by a level of IT service and know-how that you may not always be able to achieve within your own organisation. Every employee benefits: Any problems can be solved quickly and professionally and, thanks to regular updates, you software is always state-of-the-art. Longer interruptions to work due to IT problems are therefore a thing of the past.
Optimum work-life balance improves motivation
A big advantage of flexible working is the possibility for employees to schedule their own working hours according to their individual needs - independent of an otherwise '9 to 5' job. The often stressful journey to work is also avoided. Furthermore, working in a familiar and possibly even a better setup often helps to increase job satisfaction. This flexibility and better work-life balance automatically leads to a greater feeling of responsibility; and, last but no least, greater motivation and productivity. Employees who work from home are particularly effective and profitable. Here, individual success can be better measured by the actual results, rather than by the employee's physical presence.
Would you like to know more about cloud-based HR solutions from CareerBuilder and how you can use it to increase the productivity of your recruiters. Our experts will be pleased to advise you!

Image: © Kzenon - shutterstock.com