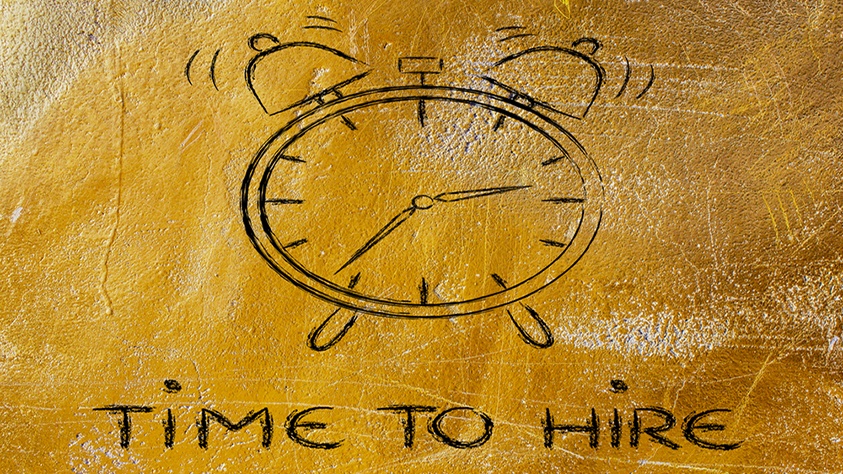 Time is money – this also applies to recruitment. A survey by the Association of Graduate Recruiters (AGR), for example, found that 87 percent of companies have vacancies they cannot fill. An ever increasing number of companies worldwide complain about loss of revenues as a result of this. We show you how to reduce your time to hire – and what effect this has on your employer brand.
Candidate Experience: the first impression counts
The experience that candidates have during the application process affects their opinion of the company and, consequently, the overall way they respond to the application. Present your employer brand as clearly and distinctively as possible - this already starts with the design of your career pages and job ad. Give candidates a comprehensive insight into your corporate culture, describe the future areas of responsibility in as much detail as possible and fully explain the unique benefits that staff can expect from your company.
Communication: make valuing people your biggest priority
When candidates submit an application they expect personal communication – and above all a quick response. Professional applicant tracking software (ATS) offers smart solutions for this: you can send personalised replies directly from the system, saving not only time, but also demonstrating that you are an employer that values and respects its potential future employees, right from the start.
Talent Pool: candidate relationship management
Wouldn't it be brilliant if you already knew of the prefect candidate for your vacancy because he or she has applied to you in the past? Offering applicants the opportunity to register in your "Talent Pool" means they receive regular information about current vacancies. This not only strengthens your employer brand, but also connects with candidates who you may have had to reject for one particular job. Try to build a lasting relationship with each applicant as you would with your best customers – because that person could be the perfect candidate for your next vacancy.
Inter-Departmental Agreement: quicker in making the right decision
Involve managers, superiors and the relevant department in your HR decisions – so that you can make a quicker and informed decision in respect of the right candidate. An applicant tracking system (ATS) allows you to communicate exceptionally quickly with your colleagues internally: you can forward full profiles of promising candidates - directly from your HR software - using a simple email link.
Reporting: analyse and optimise internal work flows
Do you know how long your recruitment team or individual members of staff need, on average, to fill a vacancy? The reporting function of your ATS will help you find this out. Also take a look at the individual processes involved: how long does it take for a job description to be approved by the relevant department? How much time do you need for one face-to-face or telephone interview? And how many days are needed for the final decision-making process? You can derive various opportunities for improvement from the results contained in your reports. For example, whether video interviews could be a good alternative to time-consuming telephone interviews. Or, to improve the performance of your recruitment team, what areas would benefit from specific training and development initiatives.
Sources:
http://graduatefog.co.uk/2014/3387/graduate-jobs-madness-graduate-employers-unfilled-vacancies/, http://www.manpowergroup.com/wps/wcm/connect/587d2b45-c47a-4647-a7c1-e7a74f68fb85/2013_Talent_Shortage_Survey_Results_US_high+res.pdf?MOD=AJPERES
Image: © faithie - Shutterstock.com