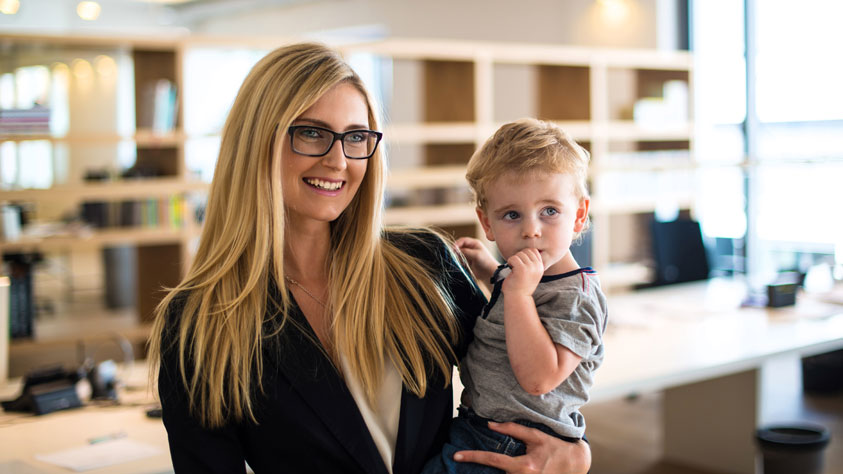 It is meant to be a sign of equality and has been celebrated annually on 8th March since 1911: International Women's Day. In some countries it is even a public holiday. But, in matters of equality there is still lots to do.
Twice the pressure – especially for women in leadership positions
The question of women in leadership positions having to choose between a successful career and their private life is still widely debated. PepsiCo's CEO Indra Nooyi commented that women couldn't have it all, that they can only pretend to have it all. Helen Weir, former group executive director of retail banking for Lloyd's Banking Group and now CFO at M&S knows: One reason for the relative lack of women in senior executive roles is their potential absence from work in order to have children. However, she believes that maternity leave can be managed successfully with the right planning. On The Today Show, Mary Barra, CEO of General Motors, postured on the same issue and said that she can do both jobs well – leading one of the largest companies in America and being a good mum.
Every woman should decide for herself which path she would like to take
Barbara Palmer, Chief Revenue Officer at CallFire, an important provider of voice and text connectivity products, is pro-choice: "I look at my friends who dedicate themselves to their children and families full time and believe that they feel shortcomings as well. They aren't perfect mothers; they still rely on a "team" of some sort for carpools, housekeeping, or PTA duties. So, if I choose to go to work (and let me be clear, I have some choice, but financially must go to work each day), are my moments of guilt any larger than theirs?
I don't think so. It goes both ways. They may feel inadequacies that they are not contributing to family finances, while I am torn by not always being the first mum on the list to volunteer in the classroom. However, I think everyone can agree that the measurement of motherhood is not solely based on perfect attendance at every event."
A successful career and a happy family life are not necessarily mutually exclusive. Barbara Palmer has some valuable tips:
Make good use of your holiday entitlement
"Don't ever miss the big things, but don't sweat the small stuff. For me, it was always important to be present by participating, but not necessarily by attending."
Share experiences with your children – if needs be "virtually"
"Know about upcoming events; donate if you can't "do"; participate with your child by asking questions and engaging in preparations. Ask friends who do attend to take pictures of your child to share with you and then be very focused on the debrief when your child runs through every detail at home. I don't feel guilt because even though I wasn't there, I am involved – their words and excitement put me there in the moment."
Let your children be involved in your work life
"The same is true for my children. I allow them to be involved in my work. They have come to the office, met the players, and can visualise the colleagues with whom I regularly meet and travel. It's just too exhausting to keep those two worlds completely separate. I also believe I am setting a good example for my daughter of how to balance these two priorities."
Take advantage of technology
"Are there sacrifices? Of course. But I don't think I have more regret than my peers who stay at home. We live in an amazing time. Technology can help so much. You can Skype to see your kids and say goodnight; text back and forth during the day; work remotely if your job allows; telecommute to attend the 'don't miss' events."
Think about your own work-life balance
"When I mentor young women prior to or just after they enter motherhood, I try to remind them that the balance is really work, children and self. That last bit, the most crucial part, always seems to fall to the wayside. Women can do it all – they just may need to do it at 90%, and they need to allow themselves the time to recharge."
And last but not least
"How will my kids judge me? I hope they will say I was a good mum. I hope they will remember that I was there for most things and present when I was there – even if I checked my cell phone. I think they will remember that I put food on the table, even if it was prepared in someone else's kitchen. And hopefully their worst criticism will be that I made them clean their rooms."
About Barbara Palmer: Barbara joined CallFire as Chief Revenue Officer in 2014. In this role, Barbara partners with the executive team to expand the customer base, develop strategic partnerships, lead business development and marketing opportunities, and revolutionise the product to meet market demand.
Sources: www.thehiringsite.com, http://www.cimaglobal.com/Thought-leadership/women/Women-in-leadership-case-studies/Helen-Weir-Lloyds-Banking-Group-/, http://corporate.marksandspencer.com/media/press-releases/2014/marks-and-spencer-group-plc-appoints-chief-finance-officer
Image: © Frank Gaertner – Shutterstock.com