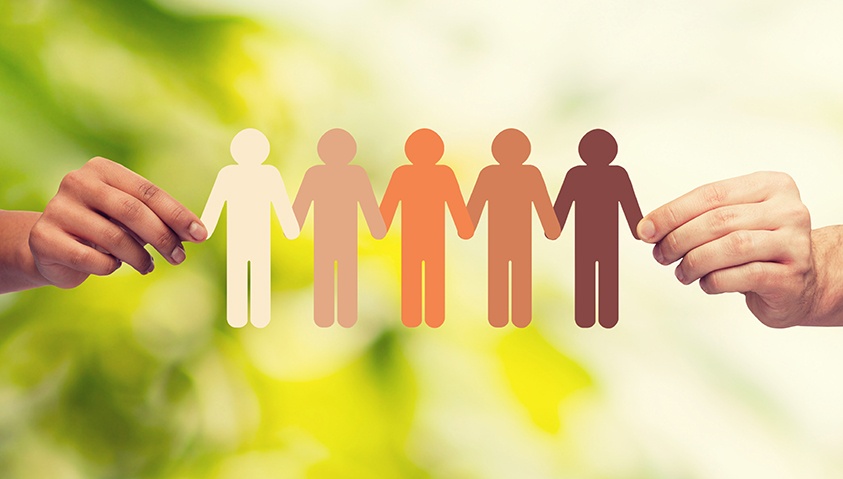 "Tolerance is respect, acceptance and appreciation of the rich diversity of our world's cultures, our forms of expression and ways of being human in all its and diversity. […] It means that one is free to adhere to one's own convictions and accepts that others adhere to theirs. […] Tolerance is not concession, condescension or indulgence. Tolerance is, above all, an active attitude prompted by recognition of the universal human rights and fundamental freedoms of others. In no circumstances can it be used to justify infringements of these fundamental values. […] Education for tolerance should aim at countering influences that lead to fear and exclusion of others"
From the UNESCO Declaration of Principles on Tolerance, Paris, 25. 10,1995
Companies are also required to promote tolerance
16 November is International Day of Tolerance - something UNESCO member states agreed 20 years ago at their 28th General Conference in Paris. In view of the current refugee crises, the issue of tolerance has seldom been more topical than now. According to UNESCO, the job of nurturing tolerance does not just rest with the state, schools, universities and families: companies are also expected to promote tolerance and openness, the ability to listen, and solidarity among their employees and society.
Cultural diversity brings business success
Where governments are getting bogged down in endless discussions without results, companies have long been active and are proving that tolerance and diversity also make sense in economic terms. As a result, diversity management and encouraging integration are becoming an inherent part of business strategy. Employers are successfully integrating women and men of different ages, with different skills, backgrounds, religions or sexual orientation within their organisations. But whilst they value diversity, this only functions in a tolerant working atmosphere.
Tolerance check list highlights potential for improvement
The European Commission supports this development. Among other things, an EU-financed project is being implemented to set up and run a platform aimed at communication between signatories to diversity charters in Europe. This project should make a significant contribution to accepting, valuing and incorporating diversity in corporate culture. But tolerance within the company can also be promoted without big EU projects and funding. Small initiatives are often the ones that can produce significant effects. Use the following examples to check how tolerant your company is and where there is potential for improvement.
Tolerance in the selection process
It is the company's aim to achieve maximum diversity when addressing applicants.
Candidates are approached through specific channels and platforms reflecting target groups in accordance with diversity strategies.
There are no language barriers, for example in respect of online applications, assessments or at interviews.
Stereotyping is avoided during evaluation processes ('not a job for women' etc.).
Value is placed on a comprehensive onboarding process, with trained employees as mentors.
Where necessary, new employees have the opportunity of language training and to obtain additional qualifications.
Tolerance in working behaviour
Working in culturally diverse teams is encouraged.
There are clear discussion rules, communicated through training initiatives (e.g. keeping to the facts, letting others finish speaking, etc.).
Learning from mistakes: 'zero tolerance' of mistakes is NOT practised.
Provided there are no disadvantages, e.g. additional work for colleagues, employees have freedom in the way they work.
Tolerance in dealing with each other
All company employees are required to treat each other politely and with respect. Mutual greetings - please, thank you and goodbye - are a matter or course.
Value is placed on diversity in the company, for example through information events about different cultures.
Positive achievements are praised, not just by line managers but also by colleagues.
There is no room for workplace bullying or discrimination. Negative signs are followed up thoroughly and countermeasures taken at an early stage.
Tolerance in dealing with one another is reflected in a written code of conduct.
Tolerance in leadership culture
Managers are aware of their role-model function and set an example for tolerance in their daily work (top-down principle).
Cultural diversity as part of corporate culture is reflected in senior management appointments.
Managers convey trust and show that they value people through a results-oriented leadership style.
Managers are given appropriate training for managing intercultural teams.
Sources:
http://www.unesco.de/infothek/dokumente/unesco-erklaerungen/erklaerung-toleranz.html
http://ec.europa.eu/justice/discrimination/diversity/index_de.htm
Image: © Syda Productions- Shutterstock.com