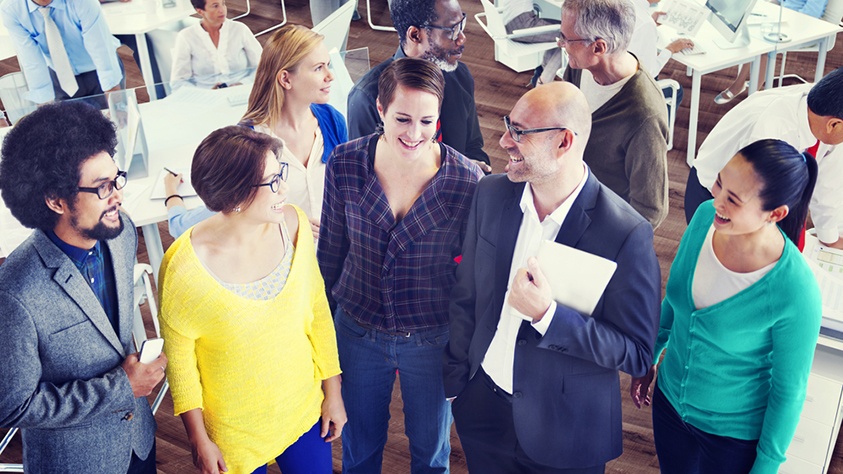 "World Day for Cultural Diversity for Dialogue and Development" is celebrated annually on 21 May with the aim of increasing public awareness of cultural diversity. Companies can and should make a contribution too: because cultural diversity not only enhances your teams and their creativity, it also helps to make your company more attractive to top talent. Everyone benefits below the line as well, since diversity ultimately improves company performance and turnover.
The "war for talent" and the job market, which is increasingly becoming an applicant's market, are two good reasons for raising your recruitment team's awareness of employing people with diverse backgrounds. Because the more diverse the backgrounds, and therefore the know-how of your own staff, the more able you will be as a company to meet the needs of different customers: a secret for success not to be scoffed at these days, which can be a significant competitive advantage.
We show you why it could be worth changing some of the mindsets and practices involved, bringing a breath of fresh air into your team, department and entire organisation.
Clear Goals
Everyone understands diversity differently. If 'diversity' and 'inclusion' are stated company goals, then you should make it clear exactly what your company means by this.
Behavioural Science
There are good people in the world – you are probably one of them. Good people are often unbiased and non-judgemental. Then there are bad people. Bad people are close-minded, biased and judgemental, are they not?
Many people still have this antiquated mindset. Today, we know enough about human behaviour – especially the human brain – to know that there is no such thing as a non-judgemental human being. People are automatically and naturally judgemental, no hatred or fear is required. Rather than permanently proclaiming our "goodness", HR professionals can actually make use of the insights from behavioural science to mitigate any bias that occurs.
Decision-Making
As the eyes are the window to the soul, how you make decisions says a lot about your culture and your values. Are you making use of diverse experiences, identities and perspectives to fuel your decision-making process and problem-solving efforts? Intentional and evidence-based decision-making processes will help you rethink your diversity and inclusion strategies.
Conflict
Greater potential for tension and conflict is a natural by-product of diverse teams. Once conflict has been properly resolved, it can be extremely useful. Are you doing it correctly? Or do you avoid conflict at all cost? Without a robust mix of inputs and an intentional process, it is very difficult for teams to avoid 'groupthink'. Embrace conflict, and if you find it difficult, find someone who can help you mediate during difficult company discussions.
Real Inclusion
You may wish to see more diversity in your applicant pool. You may be trying to eliminate prejudice in hiring decisions. But is inclusion one of your recruitment goals? Although diversity and inclusion are of significant importance to your organisation, many employees are sceptical when they "have to talk about diversity yet again!". Make sure that the issue of real inclusion is clearly defined: through appropriate behaviour, in your job ads and interviews; as well as in your induction process, staff appraisals, performance planning and promotion system.
Interested in how technology can help you to bring diversity to your company? Find out more about our Talentstream Recruit software solution or get in touch with one of our experts.
Sources:
http://ec.europa.eu/social/main.jsp?catId=88&langId=de&eventsId=125&moreDocuments=yes&tableName=events
http://thehiringsite.careerbuilder.com
Image: © Rawpixel - Shutterstock.com