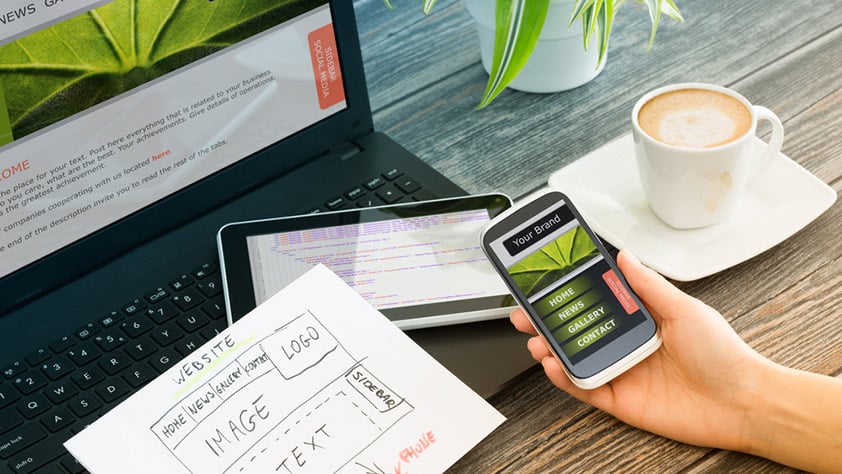 Why is a good and effective career website so important? Because it's important to your candidates. For curious jobseekers, you career site is the first port of call in the internet. It is also the only place where you can say exactly what you want, in order to attract applicants to your company and its vacancies.
In our check list, we have put together 10 tips on how an effective career website can help you attract the attention of jobseekers.
SEM and SEO: Search engine-friendly pages
The vast majority of applicants are increasingly using search engines such as Google for job hunting. Take advantage of this trend by optimising your career site and taking appropriate measures for search engine optimisation (SEO) and search engine marketing (SEM).
Corporate design & storytelling
Your career website is the ideal platform for marketing your company's history and developing your unique employer brand. Because, whether consciously or not, every company has an employer brand that can be crucial in attracting applicants.
User-friendly interface
Are candidates able to find information about your company quickly and easily on your career site? Is the application process short and self-explanatory? Does it work with different browsers? Can the pages be loaded quickly and do all the links work? All good websites are designed with the needs of the user in mind - and career sites are no exception. Creating a user-friendly site is not only the key to reducing applicant drop-out rates, but will also allow you to stand out from the competition. By offering a good user experience, you also show candidates that you value their time and interest in your company.
Detailed and authentic: job postings and embedded videos
In order to really win jobseekers over, you need to present your history - not just recount it. Bring your company's story to life by using pictures and videos, showing what work in your organisation is really like, whilst at the same time presenting your employer brand as authentically as possible. In addressing your ideal candidates, make sure that your page design is convincing, but not over the top.
Responsive design
More than half of all companies (57 percent) do not have have mobile-friendly websites - meaning they are losing out on valuable recruitment potential. 10 percent of candidates have already looked for a job using their smartphone or tablet. So-called 'responsive design' offers the best way to empress candidates looking for jobs on mobile devices, with a user-friendly interface that encourages them to remain on your career website. Responsive design automatically responds to the size of the user's browser and adjusts the contents accordingly. It does not only ensure optimisation for mobile devices, but also the best possible candidate experience on any conceivable user interface. And this leads to greater activity on your career website - and increasing numbers of applicants.
Applying from a mobile device (quick and easy)
But it is not only your web pages that need to be optimised for mobile devices: 15 percent of candidates find applying by mobile telephone tedious. But one in four candidates - for the under 26s actually one in three - would like to take advantage of this opportunity and apply using a mobile device.
Simple call-to-actions (CTAs)
Overcrowded pages and complicated processes can result in candidates leaving your career site after only a few seconds. Use a clear and simple design, as well as unambiguous CTA buttons that take visitors professionally and logically through the contents. CTAs will encourage your applicants to be interactive, for example by selecting a video, registering in your talent pool or sending an application.
Short application forms
Internal research by CareerBuilder has shown typical application processes to have a drop-out rate of 95%. Long and tedious application forms are the main reason why the majority of candidates do not complete the application process. To reduce the applicant drop-out rate, you should keep the application process as short and concise as possible. Ideally, an application process should not take more than 30 minutes. 62 percent of people actually wish it didn't last longer than 20 minutes.
Speculative applications & uploading CVs
Offer candidates the opportunity of just uploading their CV, instead of having to complete the entire application process for a specific vacancy. That way you can prevent interesting and possibly highly skilled candidates from leaving your website - and perhaps never returning - just because they didn't find a suitable job immediately.
Candidate pool
Companies with a career site from CareerBuilder are able to use the talent network to collect information about potential candidates and expand their candidate pool. By simply clicking the "Join our talent pool" button, which should appear prominently on your career site, candidates are able to leave their details (or online calling card) without having to complete the full application process. Once they are part of your talent network, candidates remain in long-term contact with the company and automatically receive details of relevant vacancies. This means that when they are ready to make job applications they think about your organisation first.
Image: © scyther5 - Shutterstock.com