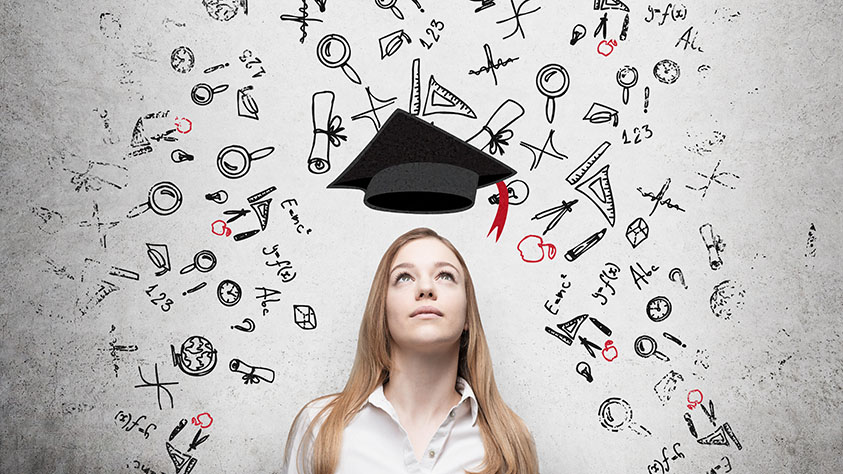 A guest article by Lauren Dowell
For the first time in 10 years graduates leaving university are being advised to feel confident about their career hunt. The latest reports show that the number of jobs made available in 2015 by the UK's leading employers is up by 8.1%, it's highest since 2007. If that wasn't enough good news, this year's graduates will be treated to a higher average salary, which now stands at £30,000.
However, amid all the positive reports graduates must not become complacent; competition is still tough and employers are still searching for stand out candidates.
Unfortunately, findings outlined by The Hay Group suggest that finding stand out candidates is becoming increasingly difficult for graduate employers. The Hay Group surveyed 150 professionals in the UK who are responsible for recruiting and developing new graduate talent of behalf of their organisation. Of those, 90% declared that more than half of the graduates that they have interviewed did not have sufficient people skills for the roles that they applied for.
The graduate skills deficit has sparked change in the graduate recruitment process. Now, employers want proof: evidence that the candidate sat in front of them during an interview is capable of functioning effectively in a working environment.
Graduate employers, desperate to combat the skills deficit, have offered university students a helping hand in fulfilling their demand for work experience by increasing the amount of placements and internships that they offer. Between 2014 and 2015, 13,049 work experience places were advertised by four-fifths of leading graduate employers, the largest level ever recorded. This sends a clear message to current university students and recent graduates; work experience pays in the long run.
With almost half of employers openly stating that they wouldn't consider applications from graduates with little or no work experience, universities have started to encourage their students to be more proactive throughout their studies.
Julian White, Careers and Employability Service Manager at Manchester Metropolitan University, gave this advice to undergraduate students thinking about obtaining work experience: "Students must start early. Effective work experience happens when the student is selective and strategic when looking for relevant experience and this can be just as hard as finding a job."
In the past, employers have accused UK universities of not doing enough to help students develop their work-place skills. However, like many universities in the UK, Manchester Metropolitan offers their students a wealth of different ways to gain work experience and build their soft skills. Potential employers are invited to the university to attend career fairs and 'coffee shop' talks, ensuring that they expose top graduate talent to the best employers. MMU in particular offers workshop programmes which cover the basics of securing a job, the effective use of social networking and various drop-in services which aim to help students on their quest to find their future career path.
Over the last few years a conscious effort has been made to source more work experience opportunities. Julian stated that the university's vacancy system advertises between 450-600 jobs a day, with 10-15% of those opportunities offering work experience programmes and internships. It would seem that the majority of universities are aware of the changing criteria of entry level graduate roles and are providing ample opportunities for their students and graduates.
Whilst employers welcome university involvement, gaining work experience ultimately comes down to the students themselves.
It is important that students and graduates understand the relevance of gaining work experience and internships if they want to be able to offer potential employers business critical skills.
Zoe Boothby, a second year English student at Durham University, said that she felt gaining work experience is "essential" for her generation as more and more employers look for it on CV's.
Similarly, recent Leeds Beckett graduate Katherine Stuart stated that media speculation forced her to find an internship whilst she was studying: "It was made quite obvious that a degree is no longer what employers look for and you have to make yourself employable in as many ways as possible, work experience being one of them."
Both Zoe and Katherine understand why employers emphasise the benefits of hands-on experience.
Zoe spoke of how her own work experience routed in marketing had opened her eyes to the reality of the workplace. "The workplace offers a new dynamic that is very different to school and university. Work experience prepares students about what to expect from a working environment." Having already gained some experience in a marketing department and working a part-time summer job, Zoe is already on a mission to secure relevant work experience within the media industry in time for next summer. She acknowledges that her search may seem a little premature, but alludes to the fact that the media industry is extremely competitive and many of her fellow students have similar aspirations.
Katherine, who graduated with 1st class honours in Media Communication Cultures this summer, claims that her internship was 'a massive learning curve' that gave her a host of opportunity to apply and develop her industry knowledge and key skill set. Since completing her degree, Katherine is now working full-time for the same company and thoroughly enjoying it.
Katherine's story is not uncommon, with a third of employers now recruiting graduates through their own work experience and internship schemes, safe in the knowledge that their new recruit can function effectively in a business environment. Employers and universities must continue to support current students and recent graduates in gaining experience and make them see that gaining work experience is no longer a choice; it's a necessity.
If employers continue to insist that candidates have some kind of work experience present on their job applications and CV's, perhaps the skills deficit will begin to recover.

---
About the author: Written by Lauren Dowell; Lauren is part of the Pareto Law Candidate Marketing Team. A dedicated and experienced writer, she helps to promote the UK's leading graduate sales recruitment and sales development organisation by contributing to a variety of blogs, mini campaigns and sourcing future leaders in the world of sales.
To find out more about Pareto services, visit our website www.pareto.co.uk or follow us on our Facebook page
Like what you've read? Tweet us and tell us your views. https://twitter.com/pareto_law
Image: © Ismagilov - Shutterstock.com