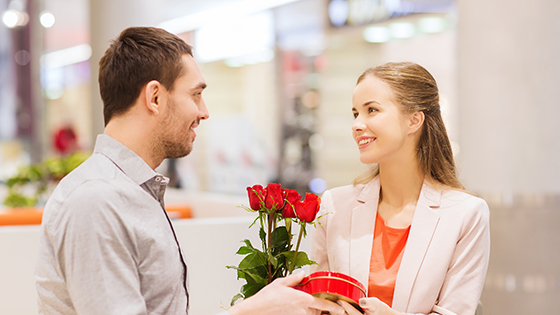 Survey reveals the sometimes scandalous details of interoffice trysts.
Love is in the air…and in the office this Valentine's Day. And while Cupid may be just a cubicle away, some workers should be wary of where his arrow points them, because it could put their career at risk.
According to CareerBuilder.co.uk's annual survey on office romance, 39 per cent of U.K. workers have dated someone who worked for the same company, and nearly 3 in 10 have had an affair with a co-worker where one person involved was married at the time.
Playing favourites?
It's always a hope of workers that they'll get along well with their boss or company leaders, but some may take that chummy relationship to the next level.
Of those who have had an office romance, 24 per cent have dated their boss, and 41 per cent admit to romancing someone in a higher position than them. Hopefully, these bosses are able to keep their feelings objective when doling out plum assignments or giving praise to their team members.
Love thy (cubicle) neighbour
While opposites do attract, oftentimes people are enamoured by others who like the same hobbies and share the same interests. So it's no surprise that one in five (19 per cent) workers say they are attracted to people who work in similar jobs as them.
"Pub"lic displays of affection
While the attraction may have sparked at the office, an after-work trip to the pub may be what it really takes to ignite the fire. According to the survey, most office romances begin at happy hour (17 per cent).
Other activities that kindled love connections include:
Over lunch: 12 per cent
Working together on a project: 12 per cent
Running into eachother outside the office: 12 per cent
At the company holiday party: 11 per cent
While working late at night: 9 per cent
Rules for office romance
Dating a co-worker can get complicated – no matter if it's your boss or someone who works in a different department than you. Heed these tips to ensure that your romance doesn't put your job in jeopardy:
Read up on company restrictions: Check your company's handbook for any language relating to interoffice relationships; some companies have strict policies around office romances. Be sure to acquaint yourself with these rules before turning a professional relationship into a personal one. That way, you can save yourself from heartbreak, and potentially having to start another job hunt.
Hope for the best, plan for the worst: Plenty of office relationships have had happy endings: 36 per cent of workers have gone on to marry the person they dated. Unfortunately, it isn't always a love match, and working with an ex can get uncomfortable – and sometimes even unbearable. Take the time to get to know someone first and carefully weigh risks and benefits before becoming more than friends.
Don't air your dirty laundry: It may be hard to avoid your significant other in the office, but be sure to at least keep things professional. Steer clear of showing affection in the office and don't get co-workers involved in personal disputes.
Be wary of what you post: Social media is often the place where relationship statuses are updated and photos of lovebirds fill newsfeeds. Considering that 44 per cent of workers surveyed have had to keep their office romance a secret, it's important to think before you post, because you can end up outing your relationship before you're ready to discuss it.
Image: © Syda Productions - shutterstock.com