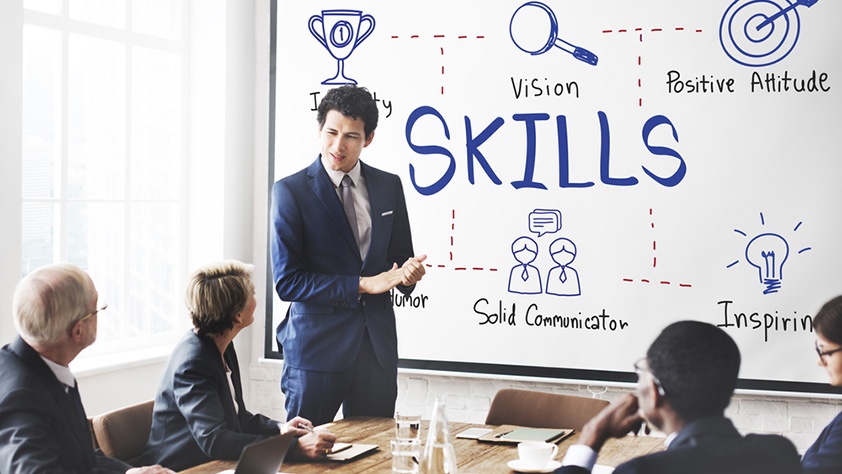 Despite increasing digitalisation and use of technology, finding a new employee or employer is still a personal process. Both sides are looking for a new (employment) relationship. This makes recruitment a bit like dating using modern communication methods - high-touch with high-tech so to speak. And, as in normal relationships, things begin to go wrong if it gets too complicated.
A job advert should convey the reality of the job
In its recent Candidate Behaviour Study, CareerBuilder surveyed over 5,000 jobseekers and more than 1,500 HR staff in the USA and Canada. The results give a clear message: back to basics! When companies make their selection process and communication unnecessarily complicated, applicants soon lose interest.
A good example is the candidate specification in the job advert. This is where HR departments often spend days refining the wording – of the text and between the lines. According to the survey, 76 percent of applicants want to be able to discern what their everyday work would be like in a particular job. 57 percent would like to see clear 'must haves' and 'nice to haves'; and for half of those surveyed, it's important to be able to realistically tell whether they are the type of applicant being sought.
Back to Basics – How it works...
Here are some examples of how to focus on the most important things in the candidate specification, without putting people off.
1. Don't set the bar higher than necessary.
If, after reading the candidate specification, potential applicants have the feeling that not even superman could impress the recruiter, you need to rethink your wording. Expressions such as "are essential", "is an essential prerequisite","we expect" or "you must" can make candidates feel intimidated. Replace this rather unfriendly style with a more inviting text. Manfred Böcker from HR-PR Consult has an example for this:
Before: "A good understanding of the relationship between business and technical issues in the telecommunications industry is essential."
After: "You will bring with you a good understanding of the relationship between business and technical issues in the telecommunications industry."
2. Identify current and future tasks
In order to give the applicant a good insight into the work environment, the recruiter also needs to have sufficient knowledge of it. Talk to all relevant people in advance (current person in the job, colleagues, managers, customers etc.) and get detailed information about responsibilities and workflows. When writing the candidate specification, also consider future changes, for example due to statutory changes or social, political and technological developments.
3. Give specific examples for business requirements
Pompous wording in a candidate specification is less than helpful if it's interpreted differently or not understood at all. It's better to describe business requirements based on actual work examples. For example: "You are familiar with Windows Office programs and can easily produce simple Excel spreadsheets and PowerPoint presentations."
This is known as 'operationalising' the skills required.
4. No soft skills wish list
Soft skills can also be better understood by applicants if they are described in context. A stereotype list such as "team player, good communicator and flexible approach" doesn't allow applicants to consider the requirements in any great detail and to compare them to their own profile. Böcker recommends – as at the job interview – describing actual work situations to illustrate desired attributes. "Good communicator" for a sales person could read as follows: You enjoy telephoning on a daily basis with a wide range of people and are able to sound convincing, even after the twentieth call."
5. Make sure requirements and tasks are consistent.
It may be nice if the candidate brings many valuable personal qualities and professional skills with them to the company. But if these are not needed in daily work, this doesn't help anyone. So only choose criteria that are actually relevant for the candidate specification. When reading the job advert, applicants should be able to relate all of the requirements to the responsibilities described. "If a company demands fluency in a foreign language, but it's not clear from the company or job description where this is to be used, the job advert is not convincing", says Manfred Böcker.
6. Prioritise by leaving things out
Candidate specifications often resemble a catalogue of competencies in which as many criteria as possible are listed and prioritised through linguistic subtleties, ranging from "absolutely essential" to "would be an advantage". But a less experienced candidate is not actually able to differentiate and may feel intimidated by the sheer number of requirements. There is a very effective way of reducing complexity: leaving things out. Think carefully about which "must haves" you really can't do without and dispense with as many "nice to haves" as possible. A useful bonus: more room in the job advert for describing the actual role.
What Do Candidates Expect From You During Their Job Search?
Get Insider Answers From CareerBuilder's Study
The recruitment process has become increasingly impersonal for both candidates and recruiters — and neither side is satisfied with the experience. The challenge? Each side has very different ideas about what makes the other side tick.
For our 2016 edition of CareerBuilder's Candidate Behavior study with Inavero, we surveyed 4,505 U.S. job seekers and 505 Canadian job seekers, as well as 1,505 hiring managers and recruiters, about virtually every aspect of the recruitment process.
When it comes to the results of our study, one thing is clear: It's time to get back to basics.
Image: © Rawpixel.com - shutterstock.com