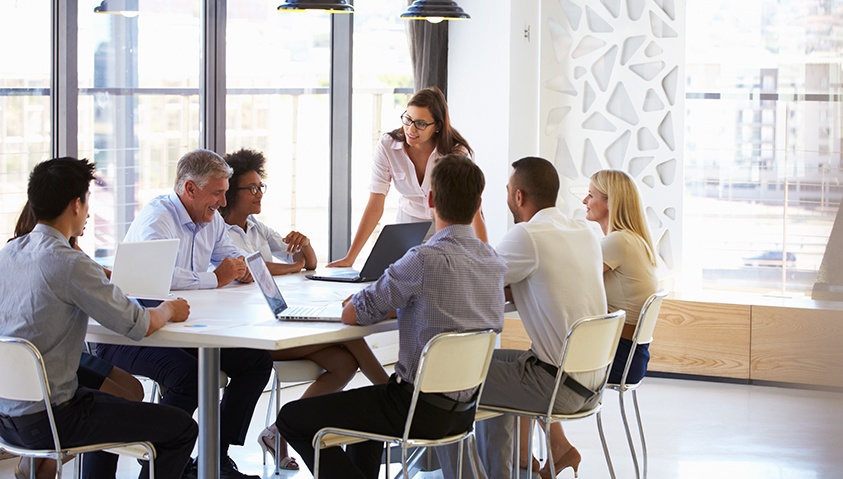 When you're the manager, your team looks to you for support, advice and direction in order to get the job done. And as the manager, you likely have strong leadership experience to help you succeed in that role. But part of being a great leader is empowering your employees to one day be leaders themselves. Not only does this help prepare your organisation for future leaders to step up, but it also makes your team more productive today.
Here are some tips for promoting leadership amongst your employees.
Offer training
Fear of public speaking, a lack of business training, no previous experience leading – these are just some of the reasons why your team members may be hesitant to step up to a leadership role. That's why offering them training can be instrumental in promoting leadership amongst your employees.
If your organisation offers management training courses, incentivise your team to participate. For example, offer the opportunity to contribute to a big campaign as the reward for completing a certain amount of training. You'll see who naturally steps up to the challenge and who may need more coaching and conversation.
Give opportunities to lead and learn
Not all team members will ascend to leadership roles, partly because of their own career interests, but for some, it may be because the opportunity was never there. That's why it's important to provide leadership opportunities to everyone on your team.
For instance, giving team members the chance to lead meetings, projects or other group efforts is a great way to get the team more comfortable with listening to each other, vocalising their ideas and following others' directions. It also gives employees a vote of confidence, communicating that you have noticed their leadership potential and are preparing them for bigger things in their career. This can even help retain employees who might have otherwise started job searching elsewhere to pursue a manager role.
Ask for feedback
Part of being a good leader is listening to your team and being in touch with their thoughts, concerns and ideas. While you likely already have channels in place for how employees can give their feedback, it's helpful to remind everybody that their input is valuable, and that you encourage ongoing communication.
After meetings that introduce a new project, for instance, reach out to employees in an email and ask them to send any ideas or follow-up thoughts that they may not have had time to mention during the meeting. You won't be surprised to find that nearly everyone has an opinion, but you may be surprised by the insight of introverts or more junior members of the team who don't always feel there's space to speak up.
Being the manager of your team comes with plenty of responsibilities, and one of the most important is passing along your leadership skills to your team members. Sharing every trick and lesson you've learned, and listening to their problems and concerns, ensures an open dialogue on your team and creates an environment of trust. They'll feel confident approaching leadership opportunities, knowing that you've shown them how encouraging you are in their movements towards leadership.
From helping prepare your organisation for tomorrow, to teaching your team how to work together and identify leadership qualities in each other, being a great leader means encouraging your employees to take on any challenge they may face, and feel confident that they've been prepared to succeed.
Image: © Monkey Business Images - Shutterstock.com