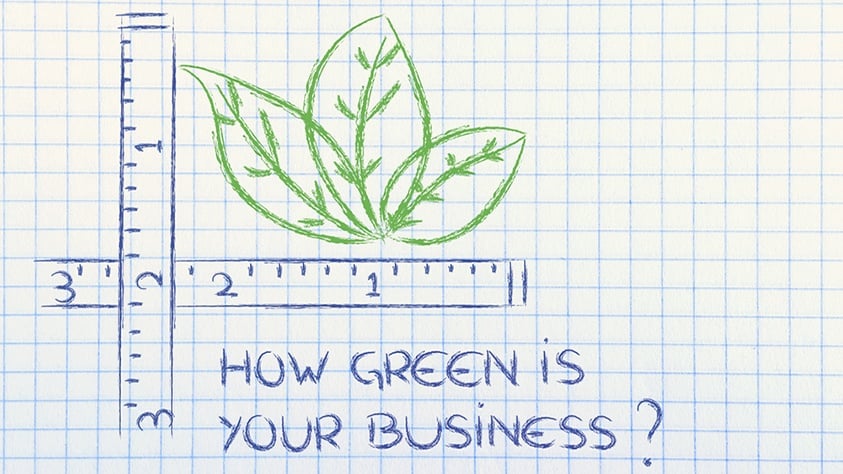 For today's generation, protection of the environment and sustainability are part of life's philosophy. This awareness cannot simply be discarded at work: the same level of commitment is now expected of the employer. Companies can only prove their accountability and attract similarly minded new talent on the basis of credible CSR management.
The issue of 'Corporate Social Responsibility' (CSR) in Europe has come of age and, with an ecologically correct footprint, is setting the agenda in other industrialised nations. In the UK CSR is much more than just a trend for ostensibly promoting one's own image. British companies, in particular, are very aware of their environmental and social responsibilities, and act accordingly. In reality they have little choice in the matter, if they wish to position themselves as an attractive employer in the war for talent.
Employees' environmental awareness does not disappear at the door to the company
Employees now expect more than just good financial results to be able to identify with their organisation. In order to call proud and loyal employees its own, a company has to be a 'really nice guy' in every respect. It needs to value its employees, treat its customers and partners fairly and, above all, have environmentally friendly and sustainable operations. Because employees who make a conscious effort to save electricity for environmental reasons at home do not become complacent just because they are in the office.
Generation Y cares about conservation
Generation Y in particular, with its own specific identity, looks for employers that uphold its own ethical and moral principles. According to a Greenpeace survey, 68 percent of young people between the ages of 15 and 24 have a keen awareness of environmental problems and sustainability issues. 70 percent of those surveyed play an active part in environmental protection because they know that a sound environment is the basis for all economic, social and cultural development. They do not accept serious shortcomings – whether it be right-wing violence, factory farming or exploitation of the environment. They are digital activists that no longer express their resentment with placards and whistles, but draw attention to misery, start petitions and call for boycotts using social media – quickly, clearly and with impressive coverage.
CSR: A corporate understanding rather than single measures
This personal attitude also determines what is expected of the company in which you not only want to work, but also wish to be committed to. Does it get its electricity from renewable sources? As well as meat from ethical suppliers, does the canteen also offer organic vegetarian and vegan dishes? Does the company use electric cars? And which environmental projects does the firm support? But the company will not be able to satisfy discerning applicants with spectacular one-off initiatives. CSR needs to become an automatic part of corporate thinking - included in its basic principles and embraced by management. Only then can this commitment be fully reflected in the employer brand in the long term.
Official and independent seals of approval, awards and rankings in the area of environmental protection, for example the EU's 'EMAS Award' or the 'Good Company Ranking' from Kirchhoff Consult AG, which provide necessary proof of environmental and social initiatives, are becoming increasingly important in company employer branding. What is more, they can also provide both recommendations for further action and useful information for comparisons between European countries.
EMAS – EU helping to improve environmental management
With its Eco-Management and Audit Scheme (EMAS), the EU provides companies of all sizes and in every industry with an effective tool for continually improving their environmental performance. Around 3000 companies currently participate in the EMAS scheme - demonstrating best practices in environmental protection by systematically reducing their energy, material and water consumption; and reducing waste and emissions. Employees are also actively involved in the environmental management scheme. External environmental assessors regularly check compliance with legislation. In particular, small and medium-sized companies in Italy, Spain, Germany and Austria have improved their environmental management with help from EMAS. Those meeting the strict requirements are awarded the EU's EMAS accreditation. The European Commission also nominates EMAS organisations that have performed particularly well for an EMAS Award. This year's nominees included companies from Germany, Spain, Italy, Austria, Poland and the UK.
Own employees are the most important ambassadors
With all the seals of approval, awards and top places in various environmental rankings - the most effective advertisement for a company is still its own staff. Marketing slogans and glossy brochures are in no way proof of a company's long-term performance in environmental issues. In the interests of a successful employer marketing strategy, this needs to be established long-term and from within. Here companies would be wise to listen to the real experts: their own employees. They are not only the company's most important ambassadors, but also bona fide informants and bringers of new ideas. The strengths and weaknesses, identified through regular feedback, encourage genuine internal and external communication. At the same time they help to recognise and utilise potential for improvement.
Image: © faithie - shutterstock.com