LONDON, 27 April 2015 – Despite the fact that 95 per cent of UK companies plan to hire recent university graduates this year, only 1 in 3 employers (23 per cent) believe that academic institutions are adequately preparing students for vacant roles in their organisations. More than half (54 per cent) say universities are preparing students for "some roles, but not all," and 19 per cent do not believe they are preparing them adequately at all.
...Read More
- 42 per cent of workers regularly look for new opportunities despite being employed
- Workers name top factors that contribute to job satisfaction
LONDON – 26 MARCH 2015 – When it comes to what compels workers to stay in their current jobs, is satisfaction enough? A newly released survey from CareerBuilder.com indicates that job satisfaction may not necessarily equal job loyalty. According to the survey, while two thirds of employees (66 per cent) report being "satisfied" or "very satisfied" in their jobs overall, more than 2 in 5 (42 per cent) say they regularly look for new opportunities.
...Read More
- More than half of employers know if a candidate is a good fit within the first five minutes
- Poor eye contact, failure to smile and fidgeting among most common body language mistakes
...Read More
One in four admits to dating someone in the office who was their boss
...Read More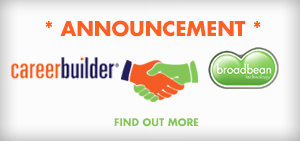 As was reported yesterday with much coverage, CareerBuilder acquired Broadbean. The announcement was run in quite a few major publications. John Zappe in the Fordyce Letter highlighted "Gaining access to such business intelligence as the relative performance of competitors may not have been the single driver behind the deal, but it certainly adds to the "Big Data" warehouse CareerBuilder is building." Todd Raphael of the ERE noted that this addition fit in line with "CareerBuilder's goal of moving from a job board to a more sweeping software provider."
...Read More
CareerBuilder & Economic Modeling Specialists Report: Which Job is Most Unique to Your State?
View the most concentrated occupations for each state in a map designed by mental_ floss magazine
CHICAGO – October 16, 2014—In the sprawling United States economy, the types of jobs that define entire regions are as a diverse as the geographies
...Read More
Subscribe to Email Updates